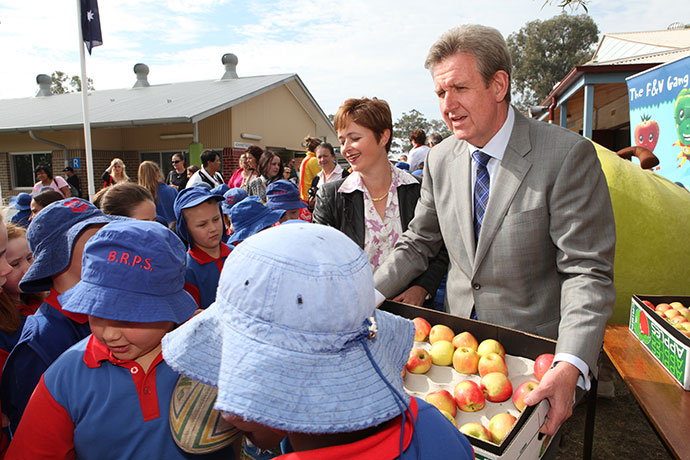 NSW Premier Barry O'Farrell joined some of the State's sporting elite to kick off the 2013 Premier's Sporting Challenge at Bennett Road Public School in Colyton today.

More than 245,000 students from 1,100 public schools will get active over the winter months, putting into practice the benefits of a healthy lifestyle.
"The Premier's Sporting Challenge is all about encouraging young people to get more active, more often and having a healthy diet," Mr O'Farrell said.
"Regular physical activity is not only important for our young people's health, but it helps there minds in the classroom."
The Challenge is supported by an elite group of NSW athletes including Olympic and Paralympic representatives Jessica Fox, Jayme Richardson, Erik Horrie, Dani Samuels as well as Parramatta Eels legend Nathan Hindmarsh.
"This year's ambassadors will visit NSW schools to share their stories and inspire students to follow their example of healthy living," Mr O'Farrell said.
State MP for Mulgoa, Tanya Davies, said Bennett Road Public School had participated in every year of the Challenge since it commenced in 2008.
"Physical activity can be great fun whether it's playing team sports like soccer or netball or bike riding and walking with friends," she said.
"I am sure we will see great competition between friends and between local schools in this year's Challenge."
The Premier's Sporting Challenge encourages NSW public schools, students, their parents and communities to focus on the importance of daily physical activity.
Over terms two and three, students are encouraged to find at least 30 minutes to be physically active, every day, for 10 weeks. On completion of the Challenge, students receive a certificate based on the level of physical activity they have sustained over the 10 weeks.
Principal of Bennett Road Public School, Matthew Plummer, said he was "very proud" of the sporting achievements made at his school over the years.
"We participate in a lot of healthy lifestyle programs as well as representative sport every Friday against other schools in our district," he said.