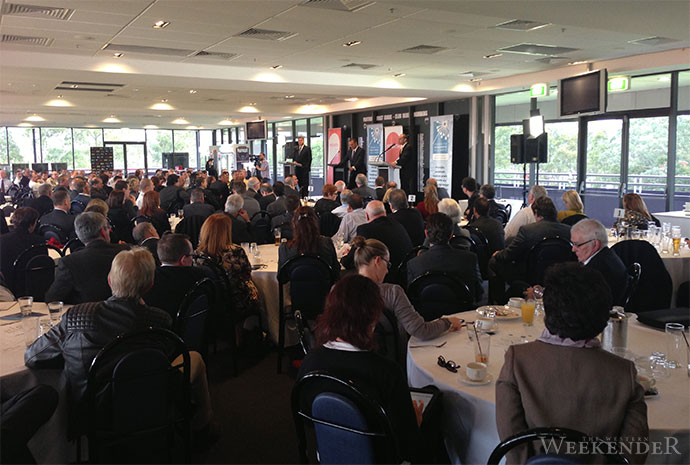 It was mostly friendly, sometimes hostile and every now and again, a little bit humorous.
In the wake of the Federal Budget earlier this month, Assistant Treasurer David Bradbury and Shadow Assistant Treasurer Mathias Cormann faced off in a debate in Penrith last week, hosted by the Penrith Business Alliance at Penrith Stadium's Chairman's Lounge.
The biggest story of the day last Thursday – Ford announcing it was ending local manufacturing and cutting jobs – dominated the Debate, closely followed by the WestConnex motorway, the topic that created the most angst between the two politicians.
Mr Bradbury vigorously defended his Government's stance that no tolls be put on existing motorways to help fund WestConnex, and that the new motorway go all the way to the city.
"I drive on the M4, you get to the end of the M4 at Concord and the rest of the trip takes as long as the trip from here to the end of the M4," he said.
"If we're going to build an extension to the M4 that doesn't go all the way into the city, frankly I think it's a waste of money.
"If you are going to go and spend billions of dollars and simply dump people further up on Parramatta Road, that just doesn't make sense."
Mr Cormann said he believed the Coalition had a far better plan on WestConnex, saying Labor's plan had too many conditions.
"We will make it happen together with the State Government and under our approach it would start happening next year," he said.
"Under her (Prime Minister Julia Gillard) plan, it won't actually start happening until 2019 – six years from now. In short, it just won't happen."
Mr Bradbury was angered by this claim: "That is absolute rubbish. Where this 2019 figure has come from absolutely astonishes me. That is rubbish."
In the most explosive claim of the debate, Mr Cormann accused Treasurer Wayne Swan and Finance Minister Penny Wong of "deliberately and intentionally and dishonestly" over-estimating revenue, leading to poor economic forecasting.
"They deliberately over-estimated revenue, they deliberately under-estimated expenditure," he said.
Mr Bradbury retaliated: "This is an absolute furphy. I don't sit there with Wayne Swan and Penny Wong and pluck these figures out of the air."
In his opening address, Mr Bradbury declared that "in so many respects, our world has changed", before explaining why Labor couldn't return the Budget to surplus as promised.
"We had sought to return the Budget to surplus in this year and we've not been able to do that," Mr Bradbury said.
"We've not been able to do that because we have faced significant writedowns in our revenue… in fact about $17 million worth of writedowns in our revenue.
"We will always support economic growth and we will always support jobs and the Budget that we have handed down does both of those things whilst at the same time delivering responsible savings of just over $40 billion across the forward estimates period."
Despite the Budget deficits, Mr Bradbury said Australians have plenty to be pleased about when it comes to the economy.
"This is the first time in our country's history, under our government, that we've achieved a Triple A credit rating under the big three global ratings agencies," he said.
"That's a big tick from those international agencies… our net debt is very low by international standards."
Mr Cormann said the past showed Labor's failures when it came to the Budget.
"One of the best indicators of future performance is past performance," he said.
"If we look at the Government's past performance when it comes to the Budget, then what we have to observe is that the current Government inherited a very strong Budget position back in 2007 … instead of the surplus which my opponent told people in his electorate in a flyer last year had already been delivered, this year of course we are going to have a $19.4 billion deficit, but not only are we going to have another deficit this year, we're going to have another deficit next year and the year after."
Mr Cormann blamed Wayne Swan's forecasting, and not a lack of government revenue, for the Budget deficits.
"The problem we have with this Government is that they have got their forecasting completely wrong," he said.
"This Government doesn't have a revenue problem, they have a spending problem."
In the most light-hearted moment of the debate, Mr Bradbury showed some love for one of his political counterparts, Liberal Senator Marise Payne.
Well, kind of.
"Sorry Marise, as much as I like you, that's not correct," he said when debating the WestConnex timeframe issue, after Mr Cormann said Ms Payne was shaking her head in disagreement in the audience.
Ms Payne didn't return the love – later issuing a press release saying Mr Bradburuy had been "caught out" on the WestConnex issue.