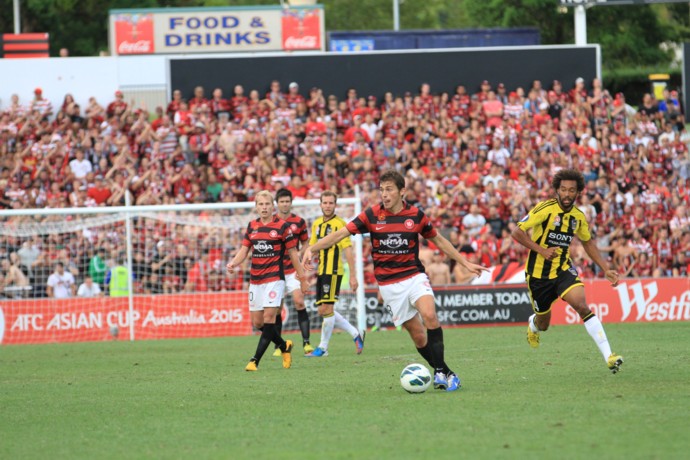 It's quite hard to believe after all that's been achieved so far that, one year ago today on April 4, 2012, the Western Sydney Wanderers were born.
And in that short space of time, so many 'wanderful' moments have happened – many unexpected but all thoroughly deserved.
A top level football club based in Sydney's west had been something fans of the code had been crying out for, for years.
Their dreams were realised on April 4 last year when former Football Federation Australia (FFA) CEO Ben Buckley announced the creation of a new team for western Sydney.
The club, which would be owned by the FFA, had the backing of a number of high profile Australian football stars in Tim Cahill, Scott Chipperfield and Lucas Neill.
The newly formed Western Sydney franchise then went on a cross-city adventure surveying fans on what they wanted the club to be called and what colours they should be seen in.
On June 25, all was revealed to the football world at a spectacular launch at Parramatta Stadium, that Western Sydney would be called the Wanderers and that their colours would be red, black and white.
Also on that day, the club unveiled their new head coach Tony Popovic, along with three signings – Aaron Mooy, Tarek Elrich and Kwabena Appiah-Kubi.
Over the next few months the club started building their roster for the 2012/13 season, acquiring players from around the A-League, as well as overseas.
The club held their first pre-season trial game at Cook Park in St Marys against Nepean FC on July 25, where close to 4,000 supporters turned up to see the side go around.
It wasn't until October 6 when Western Sydney's life in the A-League officially kicked off in front of a massive crowd against the Central Coast Mariners.
Despite the Wanderers' inexperience against the A-League favourites, the game ended in a nil-all draw.
Without a win and not a goal scored after three games, the Wanderers travelled to Brisbane determined more than ever to take home the three points – and they did just that.
Not only was history made that night with their first ever goal, courtesy of Mark Bridge, but the Wanderers won their first ever game defeating the Roar 1-0.
Following their first victory, the Wanderers enjoyed mixed results for the first half of the season.
Some memorable moments included beating cross-town rival Sydney FC 2-0; thrashing Adelaide United 6-1 in front of their home fans; and beginning a winning streak on January 13, that's lasted to this day.
The Wanderers remained undefeated for their last 12 A-League matches – winning 11 and drawing one – a feat that no other team in the competition has ever achieved.
And with each win, interest in the Wanderers continued to grow.
The club has had to overcome its fair share of controversies already, mostly relating to the anti-social behaviour of a small group of fans; and now they have to deal with the sad and tragic death of the club's media manager Rod Allen.
According to the club and its supporters, last Friday's win of the highly-regarded Premier's Plate is just the start of their trophy collection.
Their next mission is to be present at the A-League Grand Final on Sunday, April 21, where they'll look to cap off the most extraordinary story ever told in Australian sport.