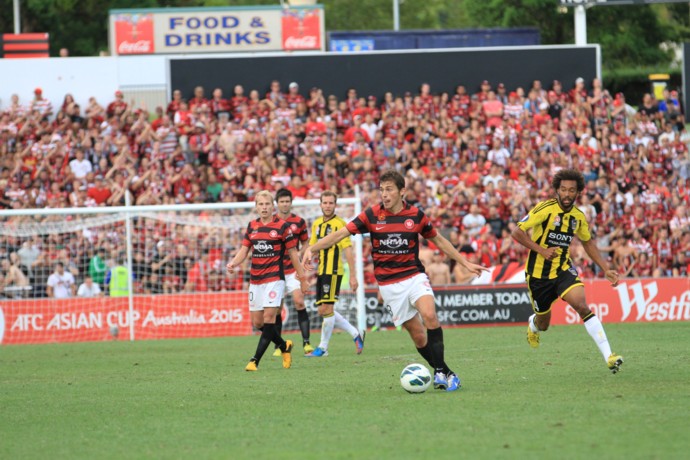 After an incredible season in which the Western Sydney Wanderers conquered all before them, there was one thing they couldn't match on the biggest day of the year: the pain of losing three grand finals.
Being a new club provides plenty of hope and there's little doubt that the Wanderers' incredible success has won over a huge legion of new fans, but it cannot provide a lesson in the pain of history.
The Central Coast Mariners had been to the A-League's final day in 2005-06, 2007-08 and 2010-11, and had walked away with nothing every time.
In the final 10 minutes of today's grand final, as they held a 2-0 lead over the new glamour club of the competition, it was the pain of those three previous visits to the biggest game of the year that helped get the Mariners home.
If anything, the Wanderers appeared caught up in the occassion, never able to get on top of the match. They clearly missed the suspended Yousef Hersi, but it seemed nothing was going to stop the Mariners.
The Mariners took a 1-0 lead into half-time when Patrick Zwaanswijk rose to meet a Michael McGlinchey corner in the dying moments of the opening stanza.
Then, calmly, they went up 2-0 when Daniel McBreen slotted a penalty with just over 20 minutes left on the clock.
The Wanderers launched some strong attacking raids in the final 20 minutes, but never really created any definite goal-scoring chances or momentum that would have helped break the drought.
For the Mariners, tonight put a grand final trophy into the cabinet that their fans have been waiting eight years for.
For the Wanderers, it was a sad end to an otherwise spectacular season, that will still go down in history as one of the most amazing sporting stories in Australia's history.
Perhaps, just perhaps, the pain of losing today's season decider will eventually play a part in Western Sydney's first championship victory – whenever that may be.