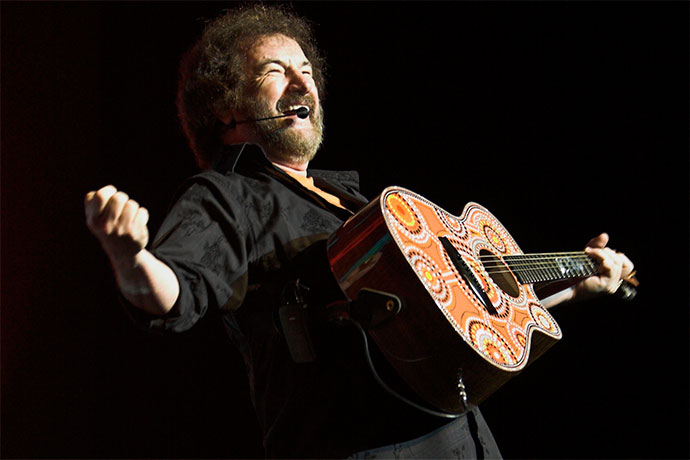 When people think of Australian comedy, the first name that pops into their mind is Kevin 'Bloody' Wilson.

The lovable larrikin, whose edgy humour has made him a global star, will take up the fight against political correctness on his national tour later this month.
After a career that has spanned 30 years and shows no sign of slowing down, Wilson is ready to embark on his 'First of the Final Farewell Tours', accompanied by his daughter Jenny Talia.
The duo will be bringing their comedy to the people of western Sydney when they perform at the Evan Theatre, Penrith Panthers and Rooty Hill RSL.
Fans should prepare to be in stitches, with Wilson saying in his famously Aussie way that the gig will be "a bloody good time, more than anything".
"Just come along and have a good time and forget about political correctness for a few hours," he said.
With his distinct brand of comedy and catchy songs, Wilson has become one of Australia's most popular figures, having sold almost four million records and toured the world with his songs.
Yet despite his success story, Wilson is still as down-to-earth as he was three decades ago when he worked as an electrician in his hometown of Kalgoorlie, Western Australia.
Back then, he was in a small-town band and started to develop his songs each week on stage by playing a top 40 song and tweaking the lyrics to make them funny. Although becoming a music megastar was never on Wilson's agenda, he was persuaded by friends to take his songs to the recording studio and from there he gradually built up a following, with his albums landing on the Australian independent charts.
Eventually, Wilson caught the attention of Sony Music who signed him and released his later albums.
According to Wilson, the reason that his music has been phenomenally successful is simply that it expresses honest truths in a way that listeners can relate to and laugh at.
"I think if anything it's honest… I get the comments so often, 'you write what we're thinking' and I guess that's part of it. But it's also light-hearted and it's funny and that's the critical part about it, more than anything it's Australians taking the piss because that's what we do," he said.
Since Wilson's career started with him singing his music for mates at the local pub, it's fitting that he still tests out his music on friends.
"I sit around with my mates and we have a carton of beer and a pizza and pull out guitars. They'll try use songs on me and I'll try to use songs on them," he said, adding that his lyrics are often inspired by real-life stories he has heard from friends.
"I'll be sitting there singing my new song for them and one of them will raise an eyebrow and say 'you bastard, I only told you about that last Friday' and suddenly it's in a song," he laughed.
Wilson was nominated for the Australian of the Year Award in 2010 – a fact that he regards as hilariously ironic, since he has also been arrested for swearing while performing his songs in public.
"What makes that so funny is I was nominated for my services to the arts, and I was getting arrested for the very same thing 30 years earlier," he said.
On top of conquering his homeland, Wilson has become a smash hit overseas after he took the advice of legendary comedian Billy Connelly, who suggested he take his songs to the UK market.
It seems that a great sense of humour runs in the family, with his daughter Jenny Talia taking up the family business, forging out a musical career in Chicago where she plays her own comedy songs.
Referring to his career as a "dream ride", Wilson said that although he will eventually slow down his touring, he can't imagine a time when he isn't creating songs.
"It's written to make people laugh and I for one don't take it too seriously. It's just a funny thing to do, an amazing way to make a living… I still don't consider it a real job," he said.
"It's sustained me for the last 30 odd years… people say, 'why don't you retire?' Or 'are you going to retire?'. How can I retire when I'm already retired? I retired 30 years ago."
Kevin 'Bloody' Wilson will perform with special guest Jenny Talia at the Evan Theatre, Penrith Panthers on Friday, April 12 and Rooty Hill RSL on Friday, April 19. For more information, visit www.kevinbloodywilson.com.