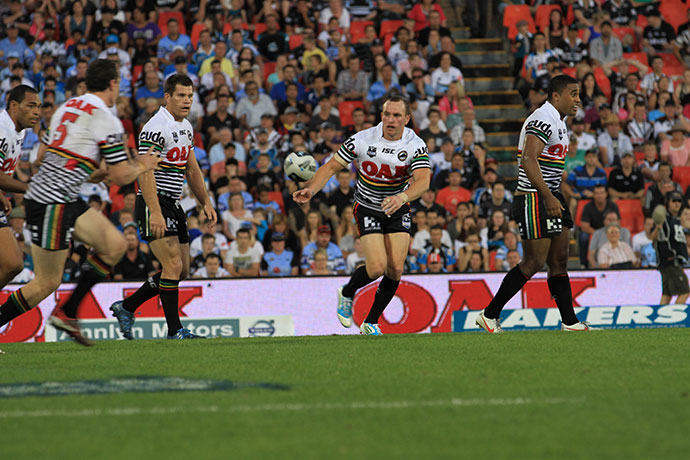 All halfbacks playing in the NRL are scrutinised from time to time, some more than others.

But perhaps amongst Penrith fans, no number seven of the last decade has been more heavily scrutinised than current halfback Luke Walsh.
Walsh, who joined the Panthers in 2009 from Newcastle, had a breakout season the following year when the club finished a surprising second on the premiership table on the back of his sharp kicking game.
Supporters thought the club had found their next Craig Gower or Greg Alexander, but it was a mediocre 2011 and 2012 for Walsh that had the fans, and even the club, talking about a new halfback.
25-year-old Walsh appeared unbothered when Extra Time asked him about always being under the microscope.
"No I don't really care one bit, [it] doesn't bother me at all," he said.
"If you start to worry about what other people are saying it's only going to get you down."
Walsh admitted he also wasn't too concerned when the club was very publicly chasing Australian and Queensland five-eighth Johnathan Thurston – the man who could have potentially taken his job at the club for the 2014 season and beyond.
"It didn't really worry me, wouldn't have fazed me anyway if he came," he said.
"One way or another he's happy now, he's got his million dollars."
So with the club missing out on Thurston, who signed a multi-million dollar contract extension with the Cowboys, will they now turn their attention to another half or put their faith in Walsh for the long term?
Walsh hopes they stick with him, but now has to deal with the fact that his new partner in crime in the halves, Lachlan Coote, will be missing for the rest of the season.
Prior to Coote being injured, Walsh said: "I think Cootey has lifted my game and our combination is only going to get better and better I reckon. He has taken off a lot more pressure especially being a left foot kicker, that's helped a lot."