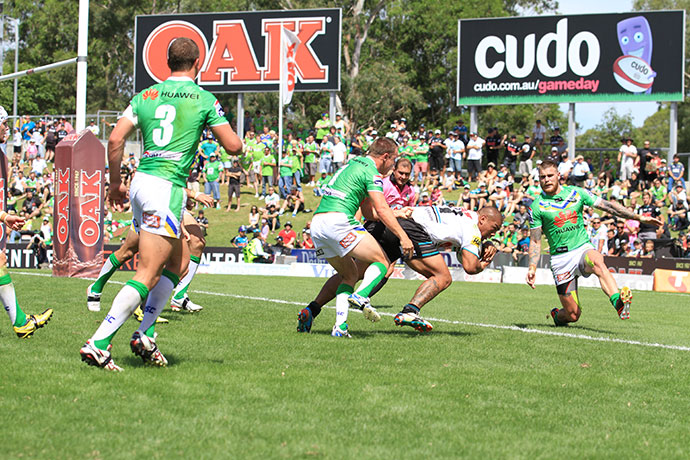 If you're a Panthers fan, you've got to love his optimism.

New Penrith second-rower and premiership winner, Sika Manu, believes the new-look Panthers, with the right attitude, can be as good as his former club, defending premiers the Melbourne Storm.
"There's not much difference between the two clubs," Manu told Extra Time.
"All the boys here are a good bunch of blokes , everyone is really disciplined and everyone works hard, which is very similar to Melbourne."
Despite Penrith not quite boasting "the big three" like the Storm, 26-year-old Manu still believes they have the make-up of a side that can contend for a title.
"We've got the right players here, it's just about everyone doing their job on the field," he said.
"We train really well but we just need to transfer that onto the field.
"We've got the right coaching staff as well. Most of our coaches have played and all know the game. We are not really far off."
After coming from a Melbourne Storm side that only lost 12 games over the past two seasons, Manu thinks it won't be too hard to handle a loss in Penrith colours, if the club does struggle during the season.
"We lose games but we come off the field knowing we could have won them, so I think it's just better execution in everything we do," he said.
"Everyone's got a good attitude and we fight to the last whistle."
And it seems Manu is leading the way already with that attitude on the paddock.
His early form for the Panthers has been nothing short of sensational, instilling all those devastating qualities that made him a superstar at the Storm.
With the 2013 Rugby League World Cup looming and the annual Test match against Australia just around the corner, the 14-time Kiwi international says he'd rather focus all his energy on Penrith first and foremost.
"I haven't really thought about playing for New Zealand, for me it's just about playing consistent football for Penrith," he said.