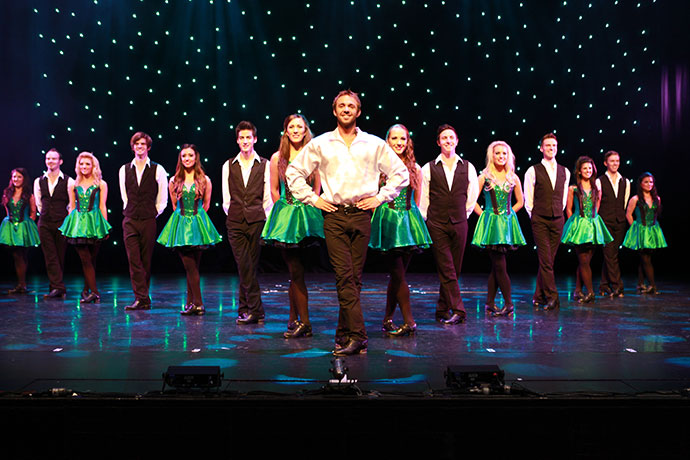 For years audiences worldwide have been enchanted by the beauty and energy of Irish dance but now you won't need to travel all the way to the Emerald Isle to experience it: the awe-inspiring 'Celtic Illusion' show is now touring Australia.

The show is a stage spectacular, which presents an eclectic mix of Irish dance with magic and will dazzle crowds at Penrith's Evan Theatre in April.
'Celtic Illusion' was created by and stars Anthony Street, an acclaimed homegrown dancer and magician who has previously appeared as lead dancer in Michael Flatey's 'Lord of the Dance'.
He is joined by an Australian cast who, despite their lack of Celtic upbringing, manage to beautifully capture the up tempo spirit of Irish dance.
They will take the audience on a journey into a wonderful, magical world where seemingly impossible illusions are performed to authentic contemporary Celtic music composed by Angela Little who also worked on Baz Lurmann's film 'Australia'.
A group of lively dancers will grace the stage in sync with the rousing beats of Little's composition, with their bodies moving as one and creating thunderous rhythms that will have the audience tapping along with their feet.
The production strikes a fine balance between traditional Celtic music and contemporary Irish dance, with Street keeping music as the heart and soul of each routine and dance moves that push the boundaries, creating an animated, modern feel.
"It was important that I chose the right composer for this show. I believe it's the music that takes the choreography to a more complete artistic level. Having Angela compose the music was the best move I made in making this show. Angela instinctively and creatively knew exactly what I had in my mind and I couldn't be happier," Street said.
The finely crafted music and choreography is enhanced by state of the art sound and lighting which serves to highlight the mystery of the performance.
'Celtic Illusion' is forever growing and evolving, with fans who have seen the show multiple times still astounded at how it changes with each performance – new illusions are constantly being added in to amaze crowds and the choreography behind the routines are regularly tweaked and fine-tuned to make for an even greater display.
This is the ultimate in Irish themed entertainment, combining the best elements of dance, music, magic with superb performers and top rate sound and lighting to create an experience that is out of this world.
'Celtic Illusion' will show at the Evan Theatre, Penrith Panthers on Friday, April 5 at 7.30pm. Tickets are $36.50. For bookings or more information, call 4720 5555 or visit www.penrith.panthers.com.au.