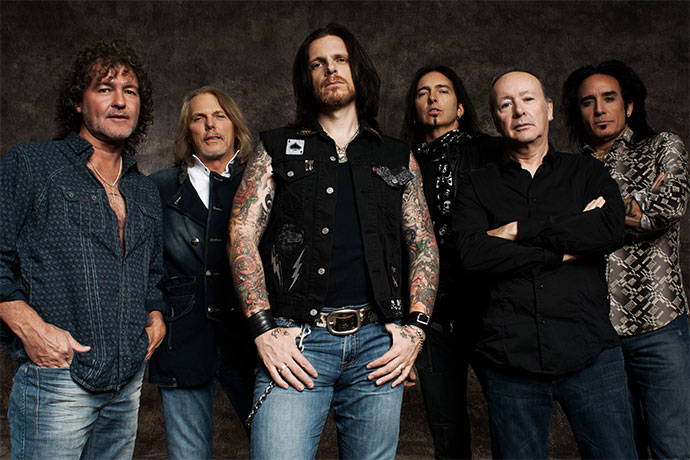 How's this for a story. Imagine growing up in a small farming town in Alabama where the only exposure to music you had was from reading it in a magazine.

When one day, at age 14, you head into the largest city in Alabama to catch one of your first ever live rock shows. But little did a young Damon Johnson know at the time, the band he was seeing would one day be the band he's now in.
"There were no bands coming to my hometown of Monroeville growing up," Damon said.
"When I was 14 years old I went to some of my first shows. Ironically the second concert I ever went to in my life was in Birmingham, Alabama, to see Ted Nugent.
"When we arrived the sign said 'appearing tonight Ted Nugent with special guests Thin Lizzy'. This was 1979, so I saw the original band when I was a kid."
It's quite hard to believe that 34 long years later, that teenager who stood from the crowd watching his rock idols do their thing on stage would one day end up standing alongside them touring the world.
"Coming from a small town and getting to see a big rock show like that just blew me away, I started to dream," Damon said.
"I began to imagine what it was like for those guys playing those songs, touring the world and being on the road. It's just unfathomable to me now that I could achieve that same thing, especially coming from a little farm town like that. I certainly don't take it for granted."
In September 2011, Damon joined the 21st century line-up of one of the biggest ever bands to burst out of Dublin, Thin Lizzy.
Penrith fans will get to see the current line-up that has been winning over fans and critics alike for the past two years, when they hit the EVAN Theatre stage on Friday, March 8.
Led by alumni Scott Gorham (guitar), Brian Downey (drums) and Darren Wharton (keyboards), all of whom played with the band's late great frontman Phil Lynott, and with Damon on guitar, Marco Mendoza (bass) and Ricky Warwick (lead vocals/guitar), this stellar line-up has been racking up the road miles and re-introducing their music to a whole new generation of fans to overwhelming success.
Damon said he was full of emotion when he joined the legendary band on stage for the first time back in 2011.
"Thanks to all the experiences I've had in various bands it definitely prepared me for something like this but without a doubt I was incredibly excited," he said.
"The heartbeat was definitely up and I'll never forget that first night turning around and seeing the backdrop that said 'Thin Lizzy'. If I had a dollar for every time I listened to the 'Live and Dangerous' album as a kid I could retire by now."
Thin Lizzy haven't toured Australia in over 30 years, and are looking forward to getting reacquainted with Australian audiences when they tour with KISS and Mötley Crüe in March.
"We're going to be playing all the hits, all the incredible songs in Thin Lizzy's repertoire," Damon said.
"I can imagine the Australian Thin Lizzy fans are going to be very excited to hear 'The Boys Are Back In Town' and 'Jailbreak'. I can tell you with sincerity that Brian (Downey) and Scott (Gorham) are very excited about coming back to Australia."
Joining one of his favourite band's growing up was almost like fate for Damon.
After being part of Alice Cooper's band for much of the past decade, Damon said it was a case of being in the right place at the right time when the prospect came up of joining Thin Lizzy.
"I was on tour with Alice Cooper at the time, and in the summer of 2011, we did two concerts in Ireland with Def Leppard and Thin Lizzy, so it was all three bands on the one bill," he said.
"When we played those shows in Ireland together I discovered that Richard Fortus was departing Thin Lizzy to link back up with Guns N' Roses. And Thin Lizzy's manager had made mention to one of the guys in Alice's band that they would be going to look for a replacement. So, my bandmate famously said: 'you guys should call Johnson because he knows the Thin Lizzy songs better than all you guys know them'. And that's how it all came together."
But it isn't the partying, clocking up the frequent flyer miles and rocking out to massive audiences all over the world that makes Damon who he is – it's his kids.
Damon said his kids love to watch him play with his eldest daughter also slowly getting into the industry herself. However, being on the road does have its ups and downs according to the 48-year-old.
"For the better part of the past eight years I've done a lot of travelling, more than I really want to. I miss being away from my wife and kids," he said.
"My kids have this altered reality. They've been back stage at big rock shows since the time they could crawl, so they take it for granted a little bit.
"My kids will be at school and their friends will say to them 'your dad's a rock star' and they go 'yeah he's a rock star'. Then they say 'have you ever been back stage?' and they say 'yeah I had M&Ms with Alice Cooper last weekend'. Of course their friends don't believe that but it really happened."
Don't miss one of the world's biggest rock bands, Thin Lizzy, when they perform live at Penrith Panthers on Friday, March 8 at 8pm. Tickets are $76.50.
To book or for more information call 1800 061 991 or visit www.penrith.panthers.com.au.