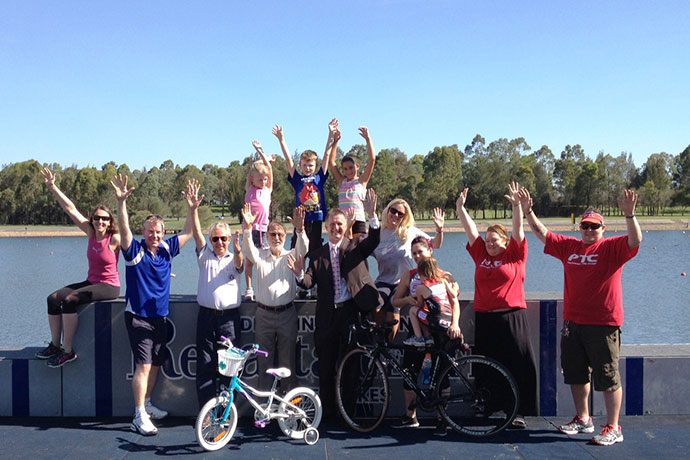 Ready, set, go! If you've had trouble sticking to your New Year's Resolution of getting fit this year, 'Fit For Freedom' is the perfect event to get you motivated about fitness while at the same time, helping out struggling families in our community.

'Fit for Freedom' is a triathlon event for the whole family. An initiative of the Australian Defence Force Assistance Trust, the funds raised from the triathlon will be used to support families of deceased, serving and retired army personnel.
"We want to engage the broader community in a fundraising event that will help out the families of armed forces personnel who have died or been injured. This is the first year for the event but we're hoping it becomes the start of a nation-wide fundraiser," said trustee and event organiser, Bernard Fehon.
The event will take place on Sunday, April 21 at the Regatta Centre and caters for all age groups and skill levels. Triathlons for elite athletes start at 7.30am with beginners' rounds commencing at 10am. There will also be stalls with representatives from various gyms from around the local area to give out fitness tips as well as games for children.
Mr Fehon said that a sports-based fundraising event was decided upon because fitness plays a significant role in the lives of our armed personnel.
"We looked for something that aligns with our armed forces – they all need to be fit. Our recent Victoria Cross recipients are a pretty fit bunch of guys," Mr Fehon said.
Mr Fehon noted that there was also the further consideration of organising an event which benefits the wider community.
"Having a fitness-based event really helps out the broader community. People will start training for this year's triathlon and maybe start participating in triathlons every year, making them more aware of fitness," Mr Fehon said.
The event is set to be a highlight in the local athletics calendar, with many competitors and spectators expected to attend.
"We're anticipating several hundred participants and hopefully we'll get thousands of people coming to watch and enjoy the day. It's an active day out that is fun for the whole family," Mr Fehon said.
For more information contact Bernard Fehon on 0417 686 404.