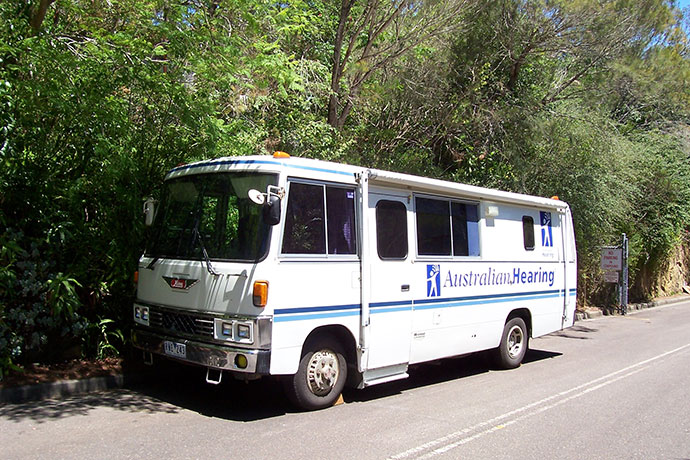 For local seniors who are concerned about their hearing, there is no longer any need for worry as Australian Hearing is bringing hearing services to the doorstep of the St Clair, Penrith and Emu Plains areas.

The Hearing Bus will be stopping by next week to offer free hearing checks and to promote hearing health in the local area.
Hearing health is not something that everyone is knowledgeable about so, as well as having a hearing check, visitors to the bus can find information on a range of common hearing issues.
Area Manager at Australian Hearing Penrith, David Maple, believes that hearing loss is an issue affecting many people in the local area. In fact, 60 per cent of Australians over the age of 60 suffer from some form of hearing loss.
"The mobile service is a convenient way to check your hearing and make sure you are in good hearing health," Mr Maple said.
"The hearing checks are conducted by experts from Australian Hearing and take around 15 minutes to complete. Our team will also be on hand to guide you through what next steps you may have to take in regards to your hearing."
When visiting the bus, having a hearing check and picking up some useful information, local seniors can also take a look at a display of easy to use hearing devices for around the home to make every day hearing easier.
"Not everyone who is experiencing problems hearing needs a hearing aid. Sometimes it's just hearing the TV at normal volumes, hearing your doorbell, or hearing your friends on the phone that's the problem," Mr Maple said.
It is not necessary to make an appointment, Australian Hearing will provide a hearing check to anyone who visits the bus on the day.
The bus will be at St Clair Shopping Centre, Bennet Road, between 9am and 3pm on Monday, March 4; Penrith Markets, Penrith showground on Station Street, between 8am and 12pm on Wednesday, March 6; and at Centro Lennox Shopping Centre, Great Western Highway Emu Plains, between 1pm and 4pm on Wednesday, March 6.
Australian Hearing provides hearing services for eligible people, including pensioners and most veterans, at over 110 permanent centres and more than 330 visiting sites across Australia.
For more information call 131 797 or visit www.hearing.com.au