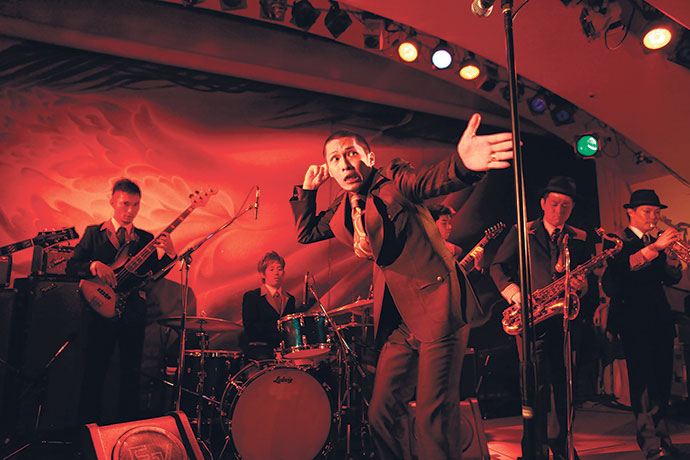 If you thought last year's concert season at the Joan Sutherland Performing Arts Centre was one of the best in its double-decade history, wait until you see what's in store for this year.
In 2013, The Joan celebrates its 23rd year with an awe inspiring line-up of international and Australian performers who will blur the traditional boundaries of music in some unforgettable shows. The Joan's dedicated Music Producer, Valda Silvy, said there are plenty of standouts from the huge array of Aussie talent making their way to The Joan this year.
"Events people shouldn't miss include Geoffrey Lancaster and the Sydney Symphony Orchestra, Christine Anu and of course Casey Donovan singing the hits of Mama Cass," she said.
The season kicks off on January 18, when the Sydney Festival and The Joan present the very first Australian concert of acclaimed Japanese funk band Osaka Monaurail. Be prepared for a concert infused with tantalising food when on February 24, Rasa Duende presents an afternoon of music and Hindustani cooking with a dash of Spanish flavouring. Featuring acclaimed musicians Bobby Singh (Tabla), Adrian McNeil (Sarod) and Damien Wright (Flamenco Guitar), audiences are taken on a musical journey from the rich, vibrant tapestry of India to the rolling olive groves and old world taverns of Southern Spain.
In a massive coup for The Joan, Opera fans will be treated to a special performance by Dame Kiri Te Kananwa. 'An Enchanting Evening with Dame Kiri Te Kanawa' will feature Dame Kiri accompanied by renowned pianist Terence Dennis. A special Gala Benefit Event, this is the only opportunity for audiences to watch this legendary soprano perform in Sydney and showcase just some of the highlights from her extensive, award-winning career.
"The money raised will go towards the Nordoff-Robbins Music Therapy and also scholarships for people with special needs at The Joan, so that's quite an extraordinary concert," Ms Silvy said.
Switching from classical to soul, international superstar Ruthie Foster will burn down the stage at The Joan on March 23 with her sizzling vocals and fiery blend of soul, blues, folk and gospel. "Ruthie is a blues singer who started out in Texas in a church choir and has already received so many nominations for various awards, so that's quite a unique event to be happening this year," Ms Silvy added.
Patrons will also appreciate the return of renowned violinist Luca Ciarla to The Joan with his new show 'Fiddler in the Loop' on April 5. Back by popular demand, this Italian maestro comes on stage with his violin, a loop machine, and the surprising animation of acclaimed Italian artist Keziat. "This year Luca Ciarla is coming as a soloist and will be playing music to cartoons, which is quite different," Ms Silvy said.
Also in April, The Joan presents Geoffrey Lancaster and the Sydney Symphony Orchestra. What's so impressive about a Geoffrey Lancaster performance is he can make music from the 18th century sound like it was written yesterday. In this concert he will use his virtuosity and imagination to reinvigorate Mozart's final piano concerto.
On June 15, one of Australia's most famous songstresses, Christine Anu, will present 'Rewind: The Aretha Franklin Songbook'. In this must see performance, Anu will conjure up soulful interpretations of Aretha's most memorable songs including 'Respect', 'Chain of Fools', '(You Make Me Feel Like) A Natural Woman' and many other signature tunes.
The following month, the Johann Strauss Ensemble are back from Austria to present their latest show 'Vienna on Fire'; and on September 14, former 'Australian Idol' winner Casey Donovan graces the stage with her acclaimed tribute to the legendary Mama Cass – lead singer of iconic 60's superstar group the Mamas & Papas. In this unforgettable show, Donovan performs tunes like 'Californian Dreamin'', 'Monday Monday', 'Words of Love' and 'Dream A Little Dream Of Me'.
"We try to cater to mostly everyone, that's why the program is varied and is not just classical and not just contemporary or jazz, there's something there for everyone," Ms Silvy said.