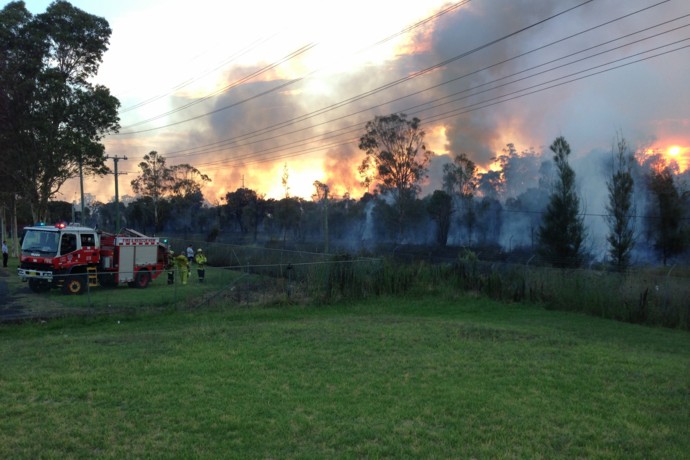 A fire at Hickey's Lane in Cranebrook is finally under control tonight after signalling an ominous warning ahead of sweltering conditions tomorrow.
The fire, which started at around 5.30pm, was out of control for some time, but a short time ago was being well contained by firefighters.
A number of nearby businesses were evacuated during the emergency, and police closed side streets off Andrews Road.
With speculation the fire may have been lit deliberately, there are fears of more incidents tomorrow with temperatures predicted to reach 43 degrees in Penrith.
Assistant Director of Weather Services, Alasdair Hainsworth, said the extreme heat, combined with strong, gusty winds ahead of the cool change late tomorrow will prove particularly challenging for fire fighters.
"The late onset of the monsoon has allowed extremely hot air to build up in northern Australia. Fortunately, this weekend we're going to finally see some cloud cover and rain getting into northern Australia, and will eventually flush out the hot air mass that has built up in the interior of the continent," he said.
Police are particularly concerned about the hot conditions given thousands will attend the Big Day Out music festival at Homebush.
"We strongly encourage revellers to be sun smart, stay hydrated by drinking plenty of water instead of alcohol, keep cool and have a plan in case you or a friend feels unwell," said Acting South West Metropolitan Region Commander, Acting Assistant Commissioner David Eardley.
"I also want to remind people that recreational drugs are dangerous, illegal and potentially life-threatening, especially when combined with alcohol and in the predicted weather conditions."
The weather bureau says the hot conditions tomorrow will be followed by a possible late thunderstorm.
A total fire ban is in place across New South Wales.
The Western Weekender will provide updates on the weather conditions from 7am tomorrow, right throughout the day, via Facebook at www.facebook.com/westernweekender.