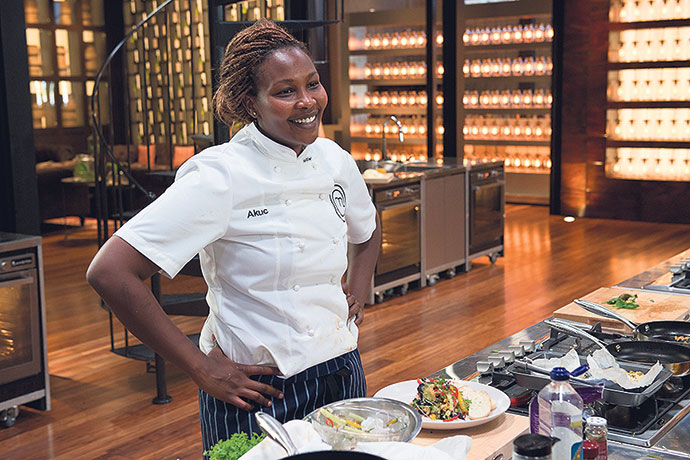 Cooking under intense pressure, in Australia's most recognised kitchen, under the watchful eye of the world's most famous chef is not for the faint of heart; luckily, St Marys' own Professional Masterchef, Akuc Isaac Chol, is up for the challenge.

The airing of the first episode of Australia's first 'Masterchef: The Professionals', on Sunday, January 20, introduced St Marys local, Akuc, 27, to the country and the former Kingswood TAFE student is set to have a huge following in the local area.
Born in Sudan and moving to Egypt, before coming to Australia as a refugee at the age of 15, the local star has not had the easiest childhood – growing up in a foreign country has its challenges.
"It was really challenging for me. Coming to Australia, I didn't know the language, the culture is very different but you get used to it," she said.
Akuc brought her love of cooking to Australia with her and it wasn't until around three years ago that she decided to turn her passion into a career.
"About three years ago I decided to be a chef. It was my boyfriend really – I cooked at home a lot, I love cooking and he said to me one day 'why don't you be a professional chef?',"she said.
She then studied Commercial Cookery at Kingswood TAFE, before beginning her apprenticeship at Spice Temple, where renowned Chef, Neil Perry, rated her among the best junior talents across all his kitchens.
She then finished her apprenticeship at Lochiel House in the Blue Mountains.
After practicing as a chef for three years, Akuc told the Weekender that she is no stranger to pressure in the kitchen but she did admit that the Masterchef kitchen is a little different.
"It is a different kitchen, you are working with people you have never worked with before so there is some pressure there," she said.
"You have to do 100 per cent all the time, you can't just do 99 per cent."
Despite the pressures, Akuc has pushed through, already showing her talent, which won her 'dish of the night' on Tuesday night's episode.
"The best part is when you cook something and take it up to the judges. Just to see Marco praise my food and Matt judge my food, it's an amazing thing," she said.