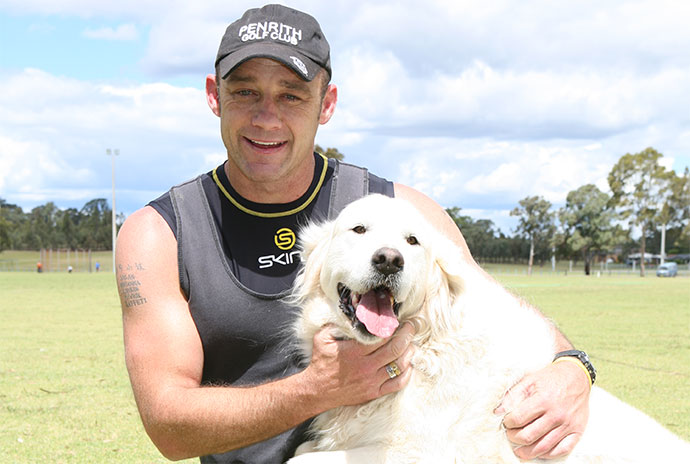 "50 per cent of people think of me as a boofhead footballer but I hope the other 50 per cent look at me and say, 'hey that's that Penrith guy trying to make a difference'."
The aspirations of former Penrith Panthers player, Mark Geyer, are nothing short of remarkable, which is why the NRL star come radio personality has been recognised this Australia Day with an Order of Australia Medal.
Mr Geyer had a distinguished career in the NRL, playing for Penrith Panthers from 1987 to 1992 before playing with the Balmain Tigers and Western Reds. He was also part of the NSW State of Origin team between 1989 to 1991 and represented Australia from 1990 to 1991.
But the South Penrith resident, who now is a presenter on 'The Grill Team' Triple M Radio Show says that with the fortune of being given a voice in society there is little that he would rather do than try to be a good role model for his kids and the youths of western Sydney.
"When I retired from the NRL you instantly lose 30 of your best mates and your left with this gaping hole that I found myself filling with charity work," he said.
Besides supporting the Police and Community Youth Clubs in the area, the Yellow Ribbon Foundation and holding a few charity boxing events, Mr Geyer was particularly moved by the plight of the families affected by the Queensland Floods in 2011.
"I was lucky that Triple M was very supportive and within a week we had organised the Legend of Origins match and raised nearly half a million dollars. It was really satisfying when I handed over the cheque to the Queensland Premier and visited the families up there, knowing we had done something – and not just the money, but showing that in NSW we cared."
Mr Geyer also had the support of the radio station when he started the segment 'Random Acts of Kindness', an initiative he is proud of.
"At the station we would get hundreds of emails asking for help, whether it was help with the rent or something simple like meeting their favourite players – which I could help with," he said.
"It is really difficult deciding who to help each week – I'd love to help everyone but it would take me 20 years to get through them all."
He said his favourite, but bitter-sweet act of kindness was to a woman named Val who he had known growing up in Mt Druitt.
"I got a call from her daughter saying she was in palliative care with cancer and that she would like to see me," he said.
"I was told that she probably wouldn't recognise me given her state but when I walked in she knew exactly who I was. I told her that on Sunday I was taking her to the Chairman's Lounge at Panthers to watch the game and meet the players.
"She passed away on the Saturday night.
"Every time I listen to the audio from that story it brings a tear to my eye because we were too late and it reminds me of my own mortality and that you have to do things now."
He said that he is overwhelmed by the Australia Day Honour.
"I hope the kids can look at me and see that if I can be awarded this with me past then maybe they will feel like they can make a difference too," he said.