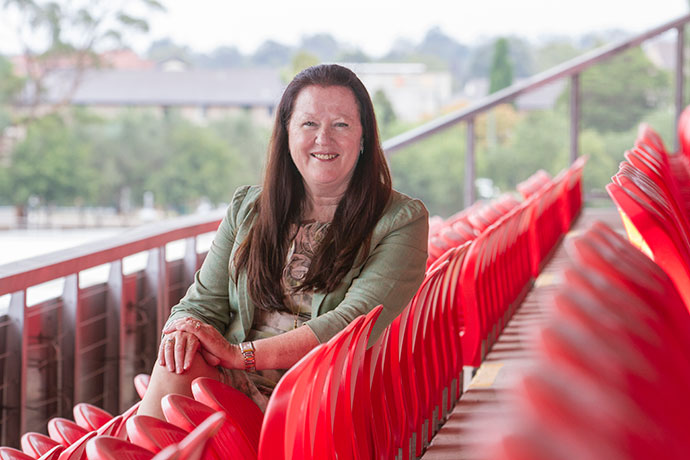 Diane Langmack, who works as Penrith Panthers' Director of Public Relations, is one of two people in the Penrith community to receive an Order of Australia Medal this Australia Day.

A very charitable and dedicated woman, Ms Langmack has been involved in the Penrith and broader community in a number of roles.
In her time at Panthers, Ms Langmack was instrumental in establishing the Panthers Women in League initiative, where players dress in pink to raise awareness of the role women play in the sport.
"I kept asking our CEO about the initiative and Penrith have always been very supportive of community involvement so we were the first club to dress our players in pink – which was a very bold move – but the Women in League concept has gone from strength to strength and now everyone is very supportive," she said.
Apart from her work with the Penrith Panthers, Ms Langmack has been heavily involved in the Cure the Future Foundation after a personal brush with cancer.
"I was diagnosed with Hodgkin's lymphoma and was sent to Professor John Rasko in 2006. He saved my life and from the day I met him I told him that I would do everything I could to support his work. If I hadn't gone to him I would not be alive," she said.
Professor Rasko and the Cure the Future Foundation work tirelessly to find a cure to cancer.
"I remember when I was lying in RPA in a bed for a year looking at the ceiling… and I thought 'oh my goodness wouldn't it be wonderful if he could find a cure' and so when I was cured of cancer I knew I had to help. He asked me to be on the board for the charity and I have been the Chairperson since 2012."
Ms Langmack said that she is also so grateful to Penrith Panthers who have supported to the work of the Cure the Future Foundation.
"When Professor Rasko asked me what I did for a living and I told him, he said he was going to become a Panther supporter and the club has become very supportive of him too."
Ms Langmack said that she is honoured to receive recognition on Australia Day and will continue her work in the community.
"I do it becuase I enjoy it. When you get given a second chance there is a reason why," she said.