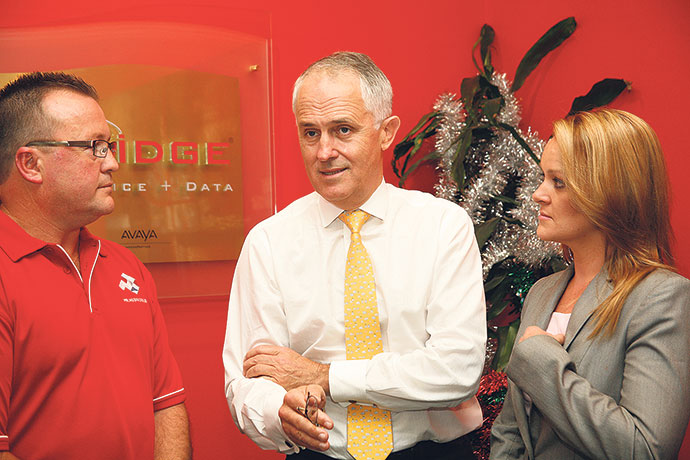 A nationwide broadband survey conducted by the Coalition has shown that some suburbs in the Lindsay electorate are struggling on Internet speeds that are inadequate for many local families and businesses.

According to the survey, the hardest hit areas are Werrington, Orchard Hills and Kingswood. The online survey tested the Internet user's broadband connection with consumers reporting their address to allow the Coalition to get an indication of where broadband speeds were inadequate.
Visiting Emu Plains IT company, Milnsbridge, Shadow Minister for Communications, Malcolm Turnbull, and Lindsay Liberal Candidate, Fiona Scott, said the rollout of the Government's National Broadband Network (NBN) was taking too long, was inconsistent and costing too much money.
"The NBN at the moment is being deployed very slowly where there isn't a lot of take up," he said.
"Yet right here in Emu Plains, where there is real demand from real businesses for it, they don't know when the NBN is going to be implemented."
Adrian Weir, Principal Consultant at Milnsbridge, said he was starting to get frustrated with the NBN.
"It's become very frustrating because part of being in technology and being in business is you need to plan for at least the next three to five years minimum," he said.
"At the moment with the NBN, not only for ourselves but the services we are providing for our clients, we don't have that ability and that's making business very difficult."
Mr Turnbull said a large number of people have reported being dissatisfied with their current Internet service and the solution was to make the NBN more affordable for consumers.
He said the Coalition would be able to deliver the NBN sooner and cheaper.
Reacting to Mr Turnbull's visit on Wednesday, Federal Member for Lindsay, David Bradbury, slammed the Coalition.
"When Tony Abbott appointed Malcolm Turnbull as Opposition Communications spokesman, he gave him one order – to demolish the NBN," Mr Bradbury said.
"It would seem Fiona Scott can do no better than parrot the relentless negativity of her leader."