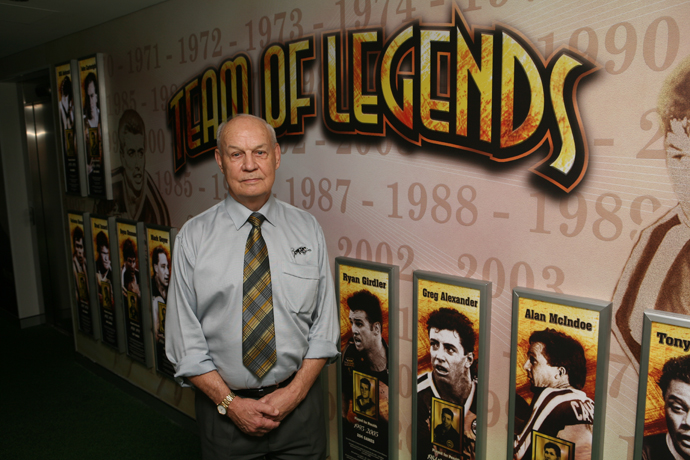 The light at the end of the tunnel became much brighter for Panthers this evening with members of the Penrith Rugby League Club agreeing to de-amalgamate from three clubs, essentially wiping two thirds of the club's debt.

The support of the members at an Extraordinary General Meeting tonight means that the Cardiff, Mekong and Triglav clubs will no longer be part of the Panthers Group.
The Mounties Group will purchase the Mekong club and Triglav Panthers, whilst the Wests Group will purchase Cardiff Panthers.
Whilst the unanimous support of the members was not surprising, Panthers Chairman Don Feltis said it was an important night and result.
"The feedback we've had for the past few weeks has been positive," Mr Feltis said.
"I wasn't surprised that it was unanimous but it was very satisfying to see that it was unanimous."
Panthers is undergoing enormous change, escaping crippling debt and forging ahead with plans to re-position the group as an industry leader.
"What's happened tonight is that we've virtually wiped two thirds of our debt out in one hit," Mr Feltis said.
"We had the threat that if the debt was still going, or still in place in June 2013, we'd be in big trouble. This alleviates that happening."
Panthers will soon bank with ANZ, a significant move given previously the club has had trouble dealing with the major banks.
"The Penrith club is programmed to make $9.5 million profit next year," Mr Feltis said.
Mr Feltis said Panthers would continue to throw its support behind Wallacia Panthers, despite it being a major black hole for the Group.
"We need a new clubhouse out there for a start," Mr Feltis said.
"I know that it's in our plans. We haven't got any plans about disposing of Wallacia because it's part of the district."
Tonight's meetings were over in less than an hour with no major opposition to the plans.