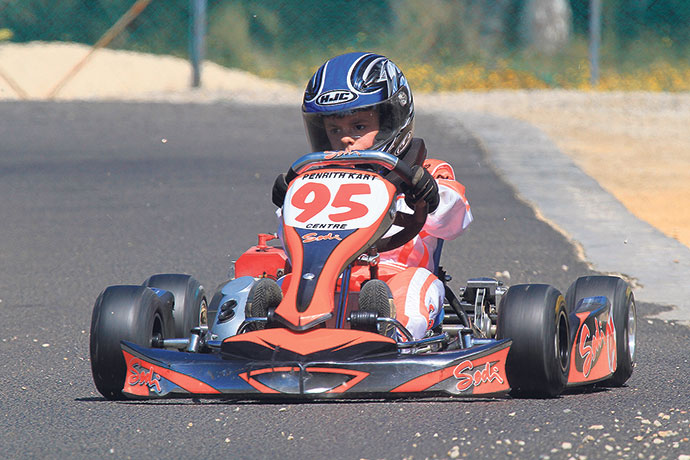 He's only been racing competitively for just over year but eight-year-old William Seal is already making a name for himself in the exciting sport of go-karting.

Earlier this month, William took home the coveted Cadet Club Championship, which was raced over eight rounds at the Lithgow Go-Karting Club.
"William won the championship by 50 points," his father, Michael Seal said.
"All the kids he raced in that competition were around 10 to 11-years-old, and all the other kids his age were a fair way back. It was a tremendous effort."
The Year Two Penrith Anglican College student started racing competitively at the Lithgow-based facility in October last year.
However a first round race meeting in December that same year almost ended William's career before it had even begun.
"William rolled his kart and had to go to hospital for shock after he began fainting," Mr Seal said.
"But we fixed his kart and he got back in it not long after. I was worried the first time he got back on the track again but after a few laps he proved to me he was good to go."
William, who regards V8 Supercar driver Rick Kelly as his racing idol, said he would love to continue his racing career as he gets older.
"I love go-kart racing because you get to go fast and drift sideways," he said.
"I hope to keep doing it for many years to come."
And it seems the racing in the Seal family doesn't quite end there. William's mother, father and even 10-year-old sister, Sharnay, all get their own thrills out of the fast-paced sport.
"My daughter Sharnay finished fourth in the same Cadet Club Championship William won," Mr Seal said.
"She took it up because my wife used to race. She loves racing against the boys each weekend and holds her own considering it takes girls a lot longer to get the hang of the sport."
Mr Seal said he and his wife were very proud of their children's great achievements early on and were delighted they chose to follow in their footsteps.
"We believe William has what it takes to go to that next level and we will continue to support him," he said.