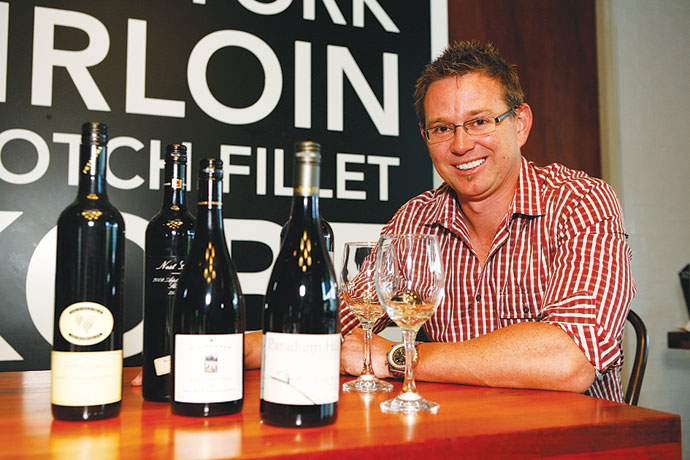 From the fine selection of meats in the deli to the suave bar setting, Osso Steak and Ribs Restaurant offers a unique and unforgettable dining experience.

Osso is the perfect setting for a business lunch, dinner date or a little self indulgence – the modern interior will have you feeling comfortable and the staff, including the charming waiter Bill, will make you feel like family.
Located in Penrith Panthers, Osso has a menu for connoisseurs and carnivores alike. Start with the bruchetta entree and enjoy the crisp pizza base, finely chopped tomatoes and onion with olive oil, vinegar and freshly-made basil paste.
There are many mouth-watering mains to choose from but be sure to order the wagyu beef. Though steak is most enjoyable with a fresh Béarnaise, Diane or pink pepper sauce, this premium, grain-fed wagyu beef is so tasty you will want to enjoy its marbled flavour as is.
Some other choices to consider include the Cargill Wagga Wagga grain-fed eye fillet of filet mignon and the RH Collinson Pasture sirloin or t-bone. And it would not be Osso Steak and Ribs without a delicious range of ribs.
Don't be embarrassed to put down the cutlery; tender and full of flavour, the meat falls right off the rib bone.
Osso cooks their ribs twice for guaranteed tenderness and they are basted with Osso's own Hickory Barbeque Sauce. Don't be fooled though, Osso's quality food doesn't stop with the mains. Displaying talent in every aspect of the kitchen, Osso's pastry chefs have picked some dessert favourites for the menu that simply cannot be overlooked.
Try a caramel brulee with poached pear and peanut brittle, a scrumptious chocolate tasting plate or sticky date pudding. And new to the menu will be a white chocolate and coconut panna cotta with a raspberry top.
If you feel like a savoury dessert, Osso boasts an impressive range of Australian and international cheeses such as Mauri Taleggio from Lomardy in Italy and Ashgrove Vintage Black Wax Cheddar from Elizabeth Town in Tasmania.
To cap off a night of gustatory delight, match any of your meals to over 100 wines from some of Australia's most acclaimed vineyards, local and imported beers or classic range of cocktail favourites that the bar staff create with a modern twist.
Osso is located inside Penrith Panthers, 123 Mulgoa Road, Penrith. For reservations call 4720 5588.