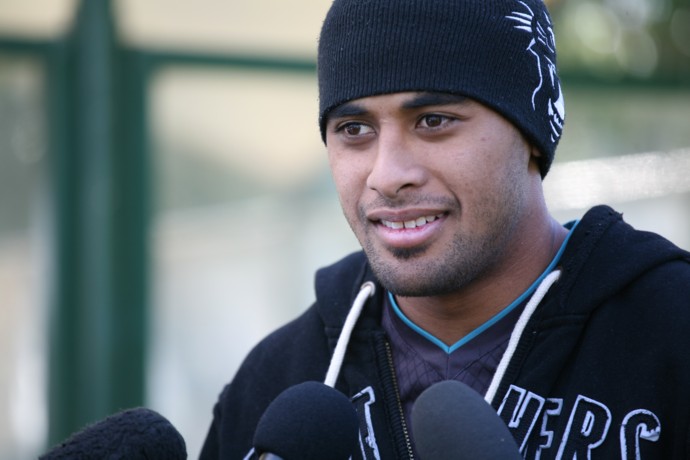 From the Hughes and Mortimer brothers of the eighties to the Walters and Johns brothers of the nineties and the Morris and Stewart brothers of today – the rugby league world has been filled with talented sibling combinations for decades.

As we slowly make our way through this current decade, a new generation of brothers are waiting in the wings to very soon carve out their own golden eras in the National Rugby League.
One of those exciting future brother combinations, that no doubt every Panthers fan is dying to see, is the emergence of the dynamic, the fast and the freakishly talented Jennings brothers.
Speaking with the Western Weekender last week, in-form Panthers superstar and State of Origin centre, Michael Jennings, spoke of his dream to one day line up side by side in Penrith colours with his younger brothers George and Robert Jennings.
"Definitely [it's a dream of mine], it would be good to see both of my brothers play for Penrith and it will be good to play alongside them," Jennings said.
One brother well on his way to a first-grade call up, possibly as soon as 2013, is 19-year-old winger/centre George Jennings.
George is one of the current breakout stars of Penrith's finals-bound Toyota Cup side, scoring a stack of tries already this year and fast proving to the world he has what it takes to match it with his older brother Michael in the big time.
Michael said he's always keeping tabs on his younger brother's progress in the Under 20's as well as making sure George goes into every game prepared and with the right attitude.
"Garth's (Brennan, Toyota Cup coach) been keeping me updated on George's performance and his attitude at training but he's been going great and I'm happy for him," Jennings said.
"He's still got a long way to go but hopefully he keeps his head down and keeps on working."
George made his debut in the Toyota Cup competition earlier this year and has since played a vital role in making his young Panthers side premiership contenders in 2012.
Michael, who's no stranger to headlines and massive accolades, said he will always be there with advice for his brother on and off the field, to make sure his rugby league career is heading in the right direction.
"George is my younger brother and I try and help him out in every way possible, just trying to lead by example," Jennings said.
Both brothers will be in action in their respective sides this Friday night when they travel up to north for their clashes with the Brisbane Broncos.
While the youngest of the trio, Robert, is still years off making his top grade debut, there's no doubt that one day, all three could line up beside each other.
That dream is one of the things keeping Jennings motivated at Penrith.
After talk he wanted out of the club, Jennings now appears settled and ready to return to his best next season.