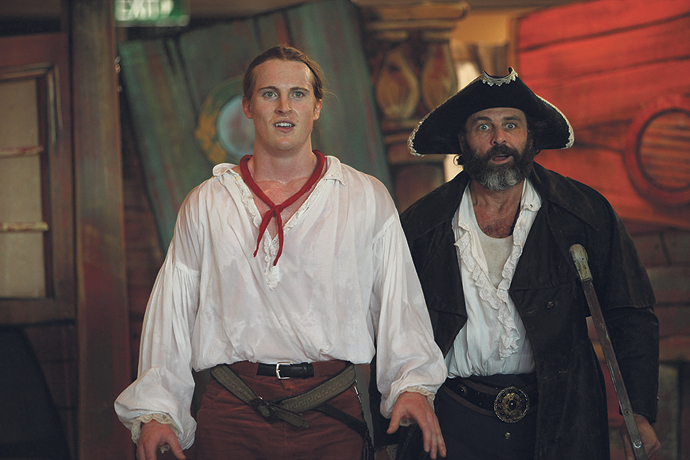 Shiver me timbers! It's time for buccaneers, buried treasure, sword fights, treasure maps and muskets when Robert Louis Stevenson's famous pirate tale 'Treasure Island' comes to the Joan Sutherland Performing Arts Centre this weekend only.

Prepare for plenty of "aghhhs" and "arrrs" as Queensland Theatre Company and Matrix Theatre present one of the great family classics of all time, which has been the basis of over 50 movie and television versions as well as 24 major stage and radio adaptations.
This new version, adapted for the stage by Helen Howard and Michael Futcher, joins 12-year-old Jim Hawkins on his hunt for buried treasure on a chartered voyage to a Caribbean island… but watch out – there are double-crossing pirates all around, led by the notorious Long John Silver.
Starring Thomas Larkin and Joss McWilliam, 'Treasure Island' is a new adaptation with two actors performing 16 characters.
A magical experience for children aged eight-years-old and up and their families, 'Treasure Island' explores themes of adventure, escapism and coming of age in this entertaining, timeless story.
Forget about 'Pirates of the Caribbean' see the original and the best swashbuckling tale of pirates ever written!
It has truly outlasted the centuries, after being written by Robert Louis Stevenson in 1883.
'Treasure Island' plays at the Q Theatre today, Friday August 24 at 10.30am and 1pm and Saturday, August 25 at 11am.
Tickets are $18 each. To book or for more information about this class pirate tale, call 4723 7600 or visit www.jspac.com.au.