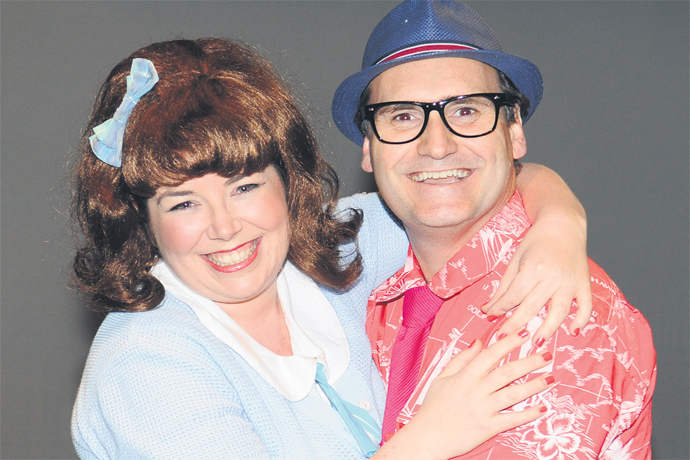 Penrith will wind back the clock next week when it welcomes one of the world's most famous and loved musicals to town – 'Hairspray'.

Local theatre company, Penrith Musical Comedy Company (PMCC), will present the hilarious and thought-provoking musical at the Q Theatre this August and September.
This entertaining musical contains everything such as colourful sets and costumes to make for a memorable and enjoyable show. Not only is there singing, dancing, a mum played by a man, forbidden love and a spoilt brat who gets her just deserts, but there's also an important message about equality, loving yourself for who you are and making the most out of life.
'Hairspray' is set in Baltimore, United States in 1962. It follows pleasantly plump teenager, Tracy Turnblad, who dreams of dancing on 'The Corny Collins Show' with dreamy teenage heartthrob Link Larkin.
Although she is able to overcome discrimination about her size to achieve this dream, Tracy then finds out that discrimination runs much deeper when she makes friends with some African-American dancers. Grant Jones, President of the Penrith Musical Comedy Company and one of the stars of the production, said 'Hairspray' is sure to excite local audiences of all ages.
"'Hairspray' is going to excite and entertain the audience with its fun and vibrant storyline, catchy songs and groovy dances," he said.
"Our production of 'Hairspray' will be true to the original Broadway production. The 2007 movie is a little bit different because they added in a few new songs but we will be sticking to the original story."
In the local production, which opens on August 31, the experienced Grant Jones plays Edna Turnblad, the mother of main star Tracy Turnblad. Much time and effort into 'fat suit' design has transformed Grant into the lovable and comical female character.
Grant said becoming a woman in the show has been a fun experience and a definite challenge.
"I decided to play the role of Edna as a bit of fun and to challenge myself really," he said.
"I don't normally walk around in high heels and I figured it'd be a fun role to play. You don't normally get to don a fat suit and high heels very often."
As history has seen over the years, the role of Tracy's kind, plus-sized, loveable mother has been traditionally played by a male actor – John Travolta played her in the 2007 movie.
Grant said he spends a considerable amount of time in wardrobe getting in and out of character.
"I spend about an hour and half trying to get ready before the show starts," he said.
"I've had a fat suit made especially for me by talented costume designer Bek Want and I also have to wear makeup and scarily high high-heels because I do have to appear taller than the actress who plays my daughter.
"There have been a few moments in rehearsals wearing my high-heels where I've had to grab onto someone so I wouldn't go flying!"
Grant believes seeing characters triumph under adversity is what makes the production so special and so popular amongst audiences the world over.
"Everyone in the production overcomes obstacles and goes on a journey," he said.
"My character, Edna, hasn't left her house since she became quite large and during the show she gets inspiration and becomes happy with who she is.
"The lead character, Tracy, is trying to reshape the world and tries to bring about integration. There are some quite strong themes in the production, which are still around to this day."
The local production of 'Hairspray' will be performed at the Q Theatre on Friday, August 31 at 8pm. It will be followed by performances on September 1, 7 and 8 at 8pm and 2pm (September 1 and 8).
Tickets start at $17. Call 4723 7600 for more info.