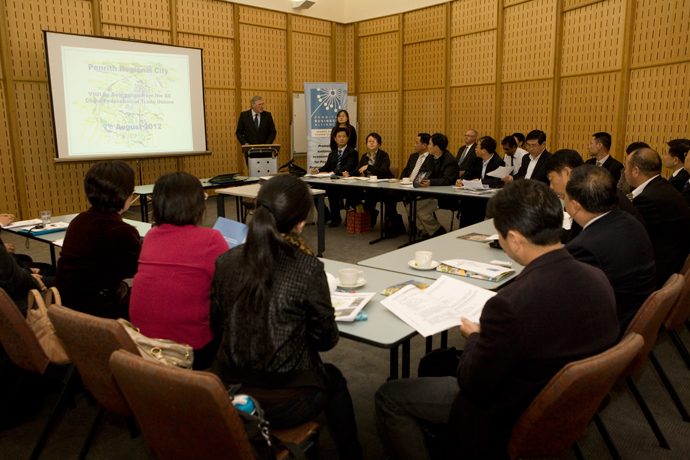 The Chairman of the Penrith Business Alliance (PBA) and his Deputy, Clr Jim Aitken, recently met with a senior delegation of trade union representatives from China.

The 23 member team was headed by Mr Zhang Bo, Chairman, National Committee of the Chinese Machinery, Metallurgical and Building Materials Workers' Union, and they were visiting Penrith to learn about the PBA's role in planning and implementing sustainable economic development policies and programs.
The delegation also received a presentation from Associate Professor Zhong Tao from the Institute of Infrastructure Engineering at the University of Western Sydney.
"It was greatly pleasing to see that our Chinese friends are keen to understand how our City delivers its economic development programs," Chairman Paul Brennan said.
"We were delighted to discuss PBA's plans with the delegation numbers and how as a Regional City, Penrith services such a large population catchment."
Councillor Jim Aitken said: "The meeting also presented us with the opportunity to promote a number of development projects in Penrith, which could be attractive to Chinese investors. This is the continuation of the good work that PBA started in March 2012 when a business delegation visited China."