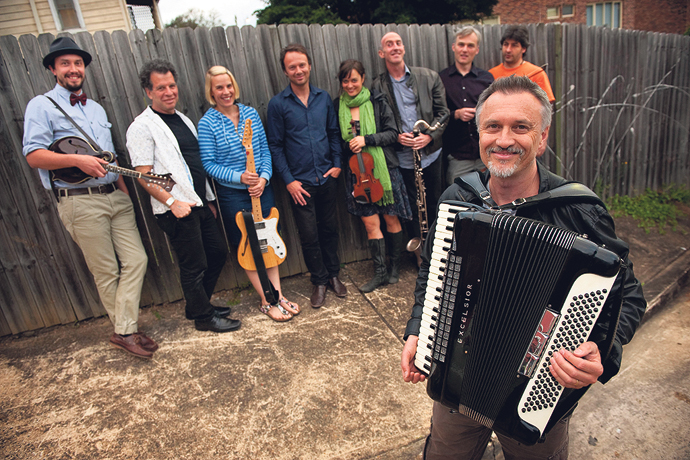 Blue Mountains-based musician, Gary Daley, will be joined on stage by double Grammy award winner, Lucky Oceans, and internationally renowned percussionist, Tunji Beier, when he presents his acclaimed composition 'Sanctuary' at the Joan Sutherland Performing Arts Centre this Sunday, July 22.

'Sanctuary' has been performed only twice before, both times to standing ovations and rave reviews – firstly at 'Live at the Village' in Springwood and then at the Parramasala Festival.
The interplay between tradition and contemporary improvisation in which Appalachian folk meets Indian percussion, is central to this extraordinary work.
'Sanctuary' is a celebration of families, identity and the power of regeneration.
The composer's inspiration is experiencing the overwhelming joy at the birth of his first grandchild, while simultaneously living through the journey of his mother suffering from Alzheimers disease, working to protect and comfort her through the music, creating a sanctuary at her most vulnerable time.
The nine-piece international ensemble Gary Daley has written this work for includes renowned musicians with a distinctive personal style performing on a unique grouping of instruments.
Gary performs in a number of bands including the internationally renowned band, The Catholics, and is well-known locally as co-producer of the popular 'Live at the Village' concerts.
Pedal steel guitarist, Lucky Oceans, is listed in Hugh Gregory's 1000 Great Guitarists book and has played with a galaxy of musicians including Paul Kelly and Joe Camelleri, while leading his own bands including Zydecats.
'Sanctuary' by Gary Daley plays at the Joan Sutherland Performing Arts Centre this Sunday, July 22 at 3pm. Tickets $30 for adults and $25 for concessions.
To book call 4723 7600 or visit www.jspac.com.au.