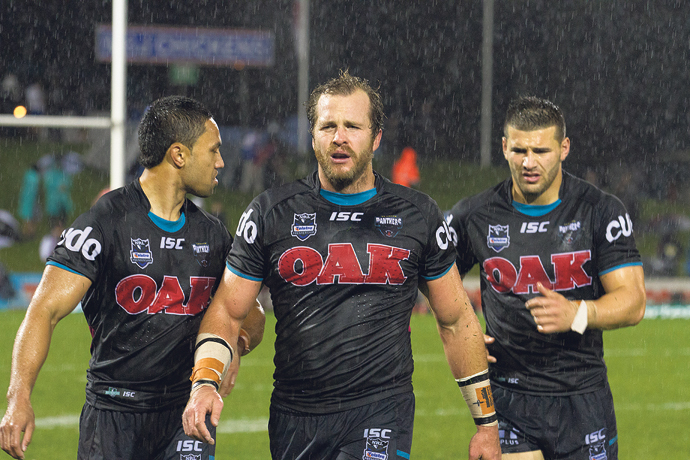 As we head into this week's clash with the Roosters, I think back to Round 2, when the Panthers put the tri-colours to the sword at Allianz Stadium.

Michael Jennings was outstanding that day, scoring a double and making 19 runs for 216m, including 11 tackle breaks.
Sam McKendry also had a stellar game in the absence of Tim Grant, dominating the Roosters' forwards and even scoring a blockbusting try of his own.
After the heartbreak of Michael Gordon's broken leg the week before, it was a performance that gave Panthers' fans hope that 2012 might not be as bad as 2011.
As history will show, that hope was misplaced; 2012 has been just as bad as 2011, if not worse, and it soon became clear the club's inner turmoil was not going to be fixed overnight.
However, this week's game presents a big opportunity for the Panthers – and it's not just an opportunity to claim two points and take one step away from the dreaded wooden spoon.
It's also an opportunity to prove steps have been made over this tumultuous season, and that the club is heading in the right direction.
It's a chance to show fans that they have something to look forward to in 2013 – not just through the raft of new signings on their way to the club or the swarm of youngsters coming through the ranks, but also with the current crop of players that will be challenging for first grade positions next season.
The Roosters are far from flash in 2012 in their own right; for the most part, they've been just as bad as Penrith, only with a much smaller injury ward.
And while they will be smarting after losing to the Rabbitohs in the dying seconds last Monday night, there's no reason they should feel any worse than the Panthers, who dominated possession against the Tigers and had plenty of chances to win.
Ivan Cleary has shown faith in his troops by naming mostly the same side that ran out last week; save for the inclusion of Clint Newton, who returns from injury to claim his place in the second row, with Nigel Plum to the bench.
Big games will be needed from Grant and McKendry, the latter of whom has been poor lately.
If Big Sam can channel some of that energy he had back in Round 2, Penrith should have the kind of go forward that will allow them to roll over the top of the Roosters.
Meanwhile, Jenko's performance against the Tigers was his best since Round 2, and a little more of that catch-me-if-you-can footwork should give his opposition plenty of trouble down the left flank.
Much of how this match will play out will be determined by how the Roosters respond to Monday night's heartbreak. Can they recover quickly?
Bring on Sunday afternoon footy at Centrebet Stadium – I've got a good feeling about this one.