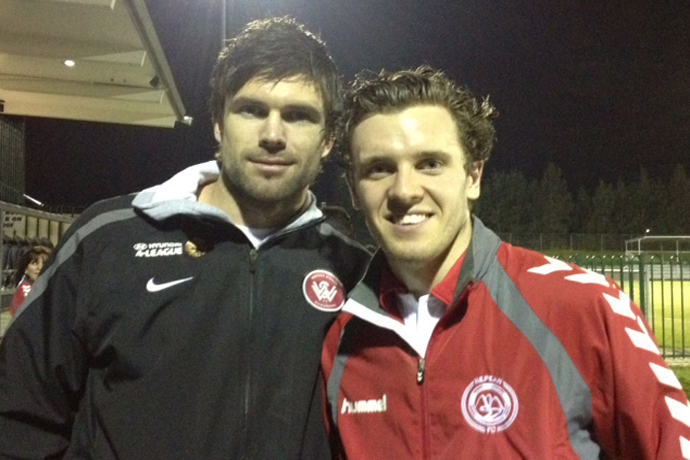 Last night marked the beginning of exciting new times for football in Australia with the first pre-season match for the new Western Sydney Wanderers Hyundai A-League team.

An unexpected yet impressive turnout of over 3,500 people at Cook Park in St Marys showed that fans of all ages have just been waiting for the A-League to make its way out west.
"Unbelievable," Wanderer's centreback and ex-socceroo, Michael Beauchamp, reflected on the turnout.
"I did not expect that many, on a Wednesday night, on a cold night as well – hopefully it's a sign of things to come in the future.
"For us it was a positive coming out here tonight and also putting what we've been doing on the training field into a game."
The Wanderers defeated Nepean FC 5-0, a highly satisfactory debut for the new club and head coach Tony Popovic.
Beauchamp and fellow team mate, former Sydney FC striker Mark Bridge, agreed Nepean held up well – particularly in the first half.
"We didn't really know what to expect and I think Nepean really stuck it to us there in the first half," said Beauchamp.
"It was good quality."
The second half saw an almost full change in the Wanderers' roster with majority of the unsigned players on the field, looking to secure a contract.
With four goals in the second half, triallist Joe Gibbs certainly gave the crowd something to cheer for and Wanderers' coaches something to think about as they contemplate their next signings over the coming few days.
According to Bridge, the new team connected well at times throughout the game.
"I think there's still a lot of room for improvement but that'll come the more games we play with each other and the more time we spend together," he said.
"There's still a long way to go until the season, so plenty of time."
Despite the loss, the night was nothing but opportunity for the Nepean FC. After finding out they would be playing the Wanderers in their first ever match, the feelings amongst the team were only of excitement and nerves.
"It didn't really kick in at first but after the initial shock, I was very excited," said Nepean defender, Brayden Hunter.
"It's a rare opportunity to test yourself against top quality players."
For many of the Wanderer's players, playing games in western Sydney will take them back to the start of their careers in youth leagues, with clubs such as Nepean FC.
"It always great to come home obviously," said Beauchamp.
"My family is here tonight as well – my mum and dad have always loved coming out to my games."