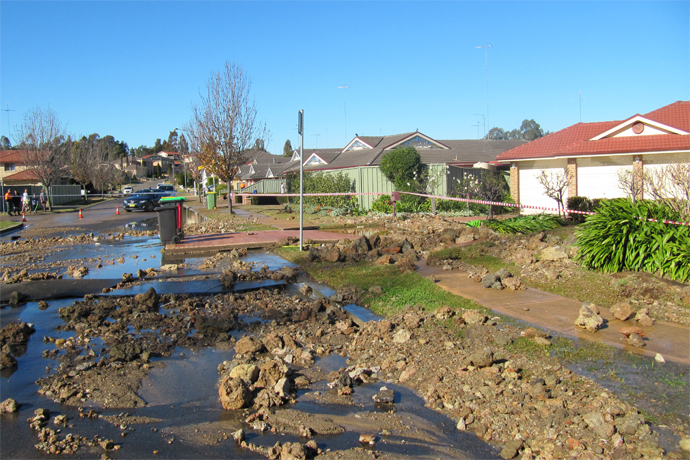 A water main burst in Glenmore Park this morning causing a wall of up to a metre of water to surge through homes and streets.

At around 8am this morning emergency crews were called to the area with reports of flooding in houses on Glengarry Drive, Westerly Way and Torquay Terrace in Glenmore Park.
"We were called at about 8am this morning to flooding in houses, when we got here the whole street was awash. It has uplifted the driveway, pushed the driveway into the street and lifted up the road. There was literally a river running through the middle of Glenmore Park," said Bruce Cameron from Regentville Fire & Rescue.
"About 10 to 12 houses were flooded and it will take most of the day to repair the main and get the water out of the houses. There was a lot of damage."
The water supply in the area has been turned off and Sydney Water arrived later in the morning to repair the water main however, when working, cut a natural gas line causing an evacuation in the area.
Luckily no-one was injured during the course of the morning, however the damage to the street and homes is likely to take weeks to repair.
The initial water main break occurred underneath the driveway of Craig and Debbie Skelly's house.
The couple are on holidays, in Orange, and the parents of Mrs Skelly, David and Helen Reid, inspected the damage. "
It is devastating. We know what this house is like all the time, it is perfect and to see it like this, it's heart breaking," said Mr Reid.
"They built this house and have worked their backsides off since. She has two jobs and he has three jobs so that they can have all this, so to see their house in this condition would be horrible. It will be very emotional when they get here."
The family is due home later today.