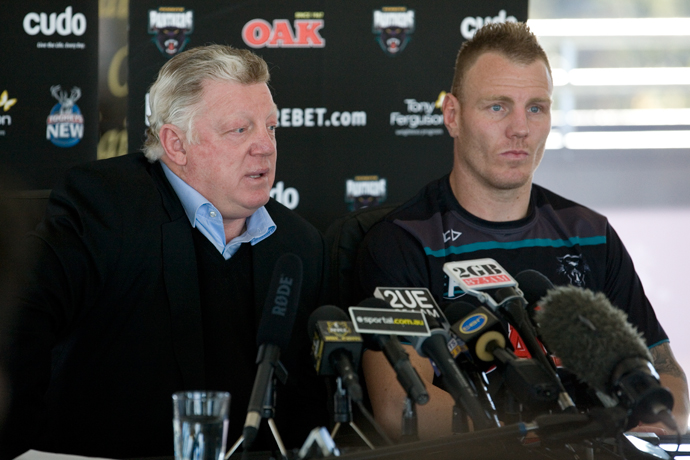 Penrith Panthers legend Luke Lewis has confirmed this afternoon that he'll leave the club at the end of the season.

In a dramatic day at Panthers headquarters, Lewis fronted a 7.30am meeting with General Manager, Phil Gould, before telling the media at 2pm that he'd sought a release.
Lewis had been contracted until the end of 2014.
Gould said this morning's meeting with Lewis and his manager was the first time a release from the Panthers had been brought up.
"Contrary to reports, no one here at Panthers has ever suggested or initiated a plan to remove Luke from the club prior to the expiry of his contract," Gould said.
"These claims are simply untrue – perhaps misinformed – nevertheless untrue."
Gould said Lewis had indicated to him that he was feeling "stale" at the Panthers.
"Luke feels as though he has given the Panthers all he can, but at this stage of his career he feels he needs a change of environment to achieve his goals," Gould said.
Lewis said he was "a little bit rattled" but that he felt the time was right to move on.
"I want to personally thank all the fans who have given me everything over the past 11 years," he said.
"I think I do need to move on and start a new challenge and I'm looking forward to that."
Gould added: "His goals and our goals at the moment just don't marry."
Whilst Gould and Lewis spoke openly at the press conference this afternoon, there appears to be significantly more to the story given Lewis was handed the club's captaincy just before the season started.
At the time, he said it was the "best feeling in his life".
But in May, Panthers coach Ivan Cleary controversially stripped Lewis of the captaincy for the State of Origin period.
Many say this was the beginning of the end, but Lewis said today that he wasn't too concerned about that situation and would have still sought a release.
"I need a whole new change of life I think with the way that I'm feeling and with where my head is at at the moment," he said.
Lewis admitted that he thought he'd play his career out at Penrith.
"I'd never thought I'd leave but where I'm at at the moment it leads that way… it's the best thing to do for me and also the best thing to do for the club," he said.
Indicating that he didn't believe that Penrith could win a premiership within the next few years, Gould said: "Luke is 28 or 29 years of age and probably doesn't want to go through the pain of having to re-build a club at this stage of his career where he could probably be playing somewhere else where he might be a chance of winning a premiership."
That is likely to raise eyebrows amongst a fan base already angry about Lewis' departure.
"I'd like to see him go to a competitive club… he'll be remembered for what he does at the back end of his career as most footballers are, so it's important he places himself well and gets in a good position so he's in the right place to play good football," Gould said.
"We've got a player here who's just not happy at the moment."