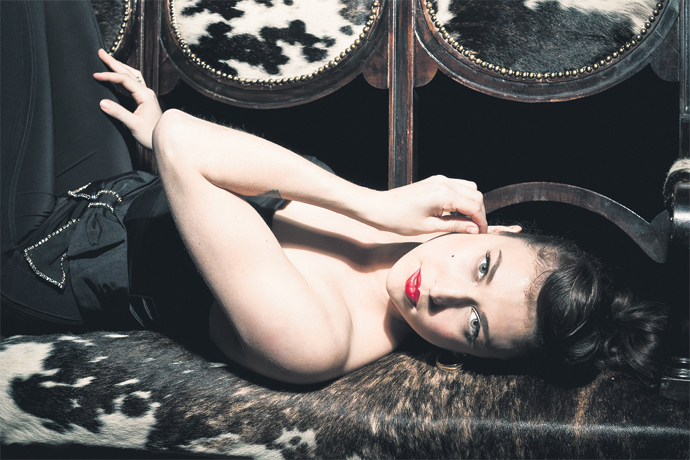 Musician Lanie Lane can be described in three words – unique, stylish and sweet. In October of last year, the 27-year-old released her debut album 'To The Horses' to critical acclaim.

The album took the country by storm, peaking at number 12 on the ARIA charts, and left Aussie fans with a new and invigorated love for jazz, blues and early rock and roll.
Lanie is one of the first in a long line of Aussies writing and recording tracks that sound like they are from an era from long ago. Lanie said her love for a variety of music genres as a young girl inspired her and helped forge her incredibly unique sound.
"The inspiration behind my sound comes from an evolution of my songwriting," she said.
"I do love blues, jazz and early rock and roll but I also love a lot of different kinds of music as well. I just really enjoy experimenting and seeing what comes from it."
Earlier this year, Lanie was nominated for four prestigious Australian Performing Right Association (APRA) Music Awards for her tremendous work on her debut offering 'To The Horses'.
But despite all the attention and rave reviews she earned from her 1950's inspired record, Lanie admits she very rarely listened to the jazz and early rock and roll genre growing up.
"I didn't really listen to that sort of music growing up to be honest," she said.
"I did listen to some blues with my dad and he would play some very early folk songs to me on his guitar but I didn't really listen to that much early rock and roll. I think my family were more into the harder stuff like Led Zeppelin, which I'm really into!"
Along with Lanie's unique music taste, she also has a very individual look to go along with it that somewhat resembles the fashion out of the 1950's. Lanie said she was attracted to her vintage get-up because of her love of collecting antiques.
"My dad's an antique restorer and I have always been around that kind of thing and I really love collecting antiques as well," she said.
"I really love my vintage fashion but I don't really strictly adhere to it. When you do photo shoots you kind of have to emphasise certain things to make it visually exciting but I'm not rockin' the vintage look at Westfield of a weekend."
Locals will soon be able to immerse themselves in Lanie Lane's intriguing world when she brings her 'On My Own Track' tour to the Blue Mountains early next month.
Lanie will be performing at the historic Clarendon Guesthouse in Katoomba on Friday, September 7.
"I'll be putting on a solo show with all the songs from my 'To The Horses' album as well as few other things along the way," Lanie said.
"I like to do a few covers on my tour. I like to mix it up and learn different songs to keep it fresh and exciting for the audience."
The past 12 months have been the stuff of dreams for Lanie with pretty much everything a girl could reasonably wish for coming true.
Some of the amazing achievements over the past year include recording a single with big time musician Jack White in Nashville, signing with her record label Ivy League Records, seeing her album 'To The Horses' enter the ARIA charts at number 12, playing two sold-out national tours to ever growing crowds, supporting acts such as Cold Chisel, rockabilly legend Brian Setzer and Jack White, gracing the covers of countless quality publications (including this one), tours of the USA and UK and receiving four nominations at the 2012 APRA Awards. Lanie admits it was very hard to pinpoint only one highlight from her incredible journey so far.
"There's been a lot of highlights and I find it difficult to pinpoint just one but I think releasing the album was the ultimate highlight," she said.
"I also rate putting out the song with Jack White highly and just playing to big crowds and having people enjoy my music are other wonderful achievements."
Lanie said plenty of planning, time and hard work went into achieving her major highlight – her first album deal.
"There's a lot to do and a lot to think about, especially back when I didn't have management or a label helping me – you had to do it all on your own," she said.
"I think it's just important you remain focused and be quite smart about what you're doing and remembering all the while that the songs are number one.
"As much planning and knowledge of the industry you can have doesn't count for s**t if you don't have a good song."
Lanie's future in the music industry could be far more lucrative if she follows through with her dream of one day cracking the United States market, where her style of music is already topping the local charts.
"I've been to America a couple of times now but I think if you want to focus on a new territory you really have to go and live there and be there constantly," Lanie said.
"You can't just go over a couple of times and expect big things to happen. I spent years in Sydney playing every venue. So if I was to move to America I would have to start from scratch again but I'm definitely interested in doing that in the future for sure."
See Lanie Lane live at Clarendon Guesthouse, Katoomba on Friday, September 7 at 8.30pm. Tickets are $25. To book or for more information call 4782 1322 or visit www.clarendonguesthouse.com.au.