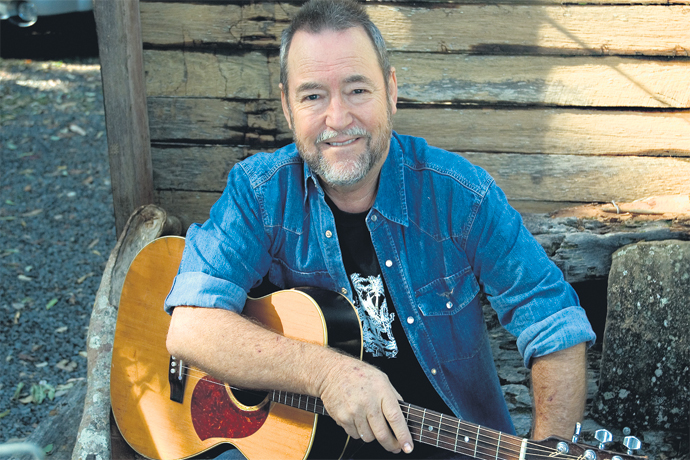 When you think of John Williamson you think of 'True Blue', 'Malley Boy' and 'Old Man Emu'.

The bearded country music legend is the quintessential Australian and he's looking forward to showing everyone his true colours at his upcoming show at Rooty Hill RSL.
Firmly cemented in the nation's music culture, John's impressive career spans more than 40 years. The 66-year-old said he can't wait to share some of his latest and best known hits around a traditional Aussie campfire setting at his show.
"It's been a while since I've been out to western Sydney, so I've got quite a lot of new songs that I can't wait to play to the audience but I also can't go away without doing the songs they want to hear as well," John said.
"I don't have any support acts on my tour, so the audience are going to get over two hours of material from me.
"I always bring fresh material with me every time I tour but I also like to bring some songs back that I haven't performed in a while. One in particular I'm bringing back is the funny blues song 'Bill The Cat'."
John said the show hits its peak towards the end when John's true patriotic side rears its head when he performs not only some of his own but some of this country's most iconic hits.
"I like to perform songs like 'True Blue' and 'Waltzing Matilda' towards the end of the show," he said.
"At the end of the show it's about pride in the county, the whole show is, but it really comes to a peak with songs like 'Waltzing Matilda', 'True Blue' and 'Raining on the Rock'.
"It's not just about pride in the people but pride in the country itself and that sort of culminates into quite a patriotic end.
"You have to be proud of your own place before you take on the rest of the world."
John has survived and soared in the often cut-throat world that is the entertainment industry. His unofficial anthems, tributes to legends and unsung heroes and tender ballads have captured the spirit of the nation in song unlike any other.
John said that he almost has enough songs in his catalogue to describe nearly every part of the country.
"I now, after 48 albums and 400 songs, have enough material to take my tour around the country," he said.
"Writing songs about different parts of Australia initially started as an accident but now I've got songs that describe the Alice (Springs), the Nullarbor Plains, the Kimberley region in the west, as well as the Flinders Ranges in the south."
John added that he has indeed written songs about western Sydney as well.
"It's funny I have a song called 'Singing in the Suburbs'," he laughs.
"When I first started hitting the club scene I was doing a lot of cover songs, then not long after I started writing my own 'Aussie' material.
I actually developed my earlier material in places like Penrith and north-west Sydney.
"The first time I performed 'True Blue' was at a club in Pennant Hills. The west of Sydney has been very important to my career."
Even from those very early beginnings performing and writing in our very own backyard, John soon after made in-roads across the country, carving out an impressive music career full of accolades that only a very select few have enjoyed.
Along his journey he has been inducted into the prestigious ARIA Hall of Fame, taken home three ARIA Awards, 24 Golden Guitar Awards, Platinum and Gold albums and recorded over four million album sales to date.
John said he's noticed his popularity is far greater in Australia than it is around the world, largely due to the fact his songs are so iconically Australian.
"With song titles like 'Cootamundra Wattle', 'Rip Rip Woodchip', 'Galleries of Pink Galahs' and 'Hawkesbury River Lovin' – there's no other parts of the world those songs could appeal apart from our own," he said.
"I've written my songs on purpose for Australians and I've never aimed my music at the world.
"Despite that it's amazing how many record orders I get from people who have visited Australia as a tourist and want a reminder of their wonderful trip they have had around the country."
John agreed that being part of some of the world's biggest events like the Sydney Olympics, Rugby Union Internationals or even Steve Irwin's memorial earned him some new fans abroad.
"Those events were a magic thing to do but I'm not sure how much of those contributed to my record sales," he said.
"I guess a lot of people mention me performing 'Waltzing Matilda' before that big Wallabies rugby game that we won against the All Blacks many years ago – that was a real period I'll brag about to my grandkids for many years to come.
"Another highlight would be performing at the Steve Irwin Memorial Service in 2006, that had a huge impact and I'm still getting emails from all around the world about that to this day."
In January of this year, John released his 12-track studio album, 'The Big Red'.
The album is reflective of the multi-award winning artist's passion for his craft and his love for every part of our great, vast land.
John Williamson performs at the Rooty Hill RSL on Friday, July 21 at 8pm. Tickets are $45 for adults and $34 for children. To book or for more information call 9625 5500 or visit www.rootyhillrsl.com.au.