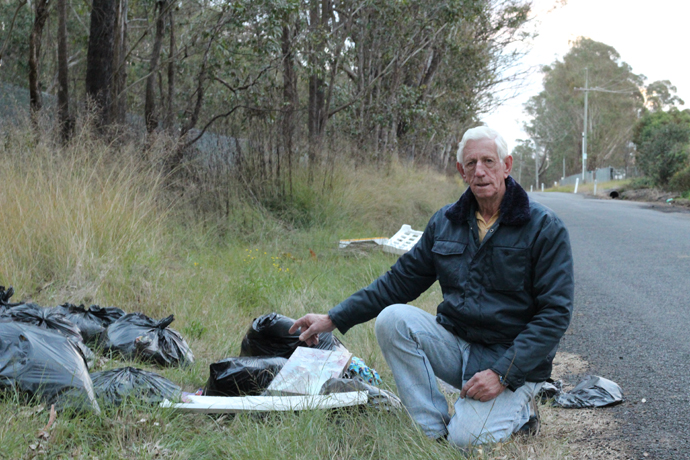 Illegal dumping of rubbish along Ninth Avenue in Llandilo is a severe problem, but one that could become worse with the introduction of the carbon tax.

Driving along the quiet rural road, you will see discarded rubbish bags, beer bottles, even old mattresses lying on the roadside.
Penrith City Councillor, Kevin Crameri, is sick and tired of reporting incidents of illegal dumping along the road, but is concerned the introduction of the carbon tax will see an increase in people offloading their garbage.
"We have people, who get three bins to dispose of their rubbish, but still want to drive along and dump their rubbish on our road," he said.
"Just last Tuesday I had to report to council that a pig carcass, minus its legs, had been dumped at the end of the road, not to mention a string of purple rubbish bags that line Ninth Avenue right up to Xavier College."
Cr Crameri said that it is frustrating that people choose to drive to Llandilo to dump their trash when council offers clean up services to residents for free.
"Council offers a free clean up service to all residents four times a year. All people have to do is call Council and book in a time and they will collect any rubbish that needs to be disposed of," he said.
"There is also the problem that even when the dumping is reported, it sits there for days on end and people driving past see that Ninth Avenue is a hot spot and then think they can get away with it too. Council needs to be proactive in these areas where illegal dumping is an issue."
But with the introduction of the carbon tax on July 1, tip prices are set to increase, which Cr Crameri fears will result in even more people illegally dumping their rubbish.
"I think it will get worse because tips will increase charges and people are just too lazy. It wouldn't be a problem at all if people just called council and took advantage of the services we already run," he said.
For more information on Penrith City Council's waste services, visit their website or call 4732 7615.