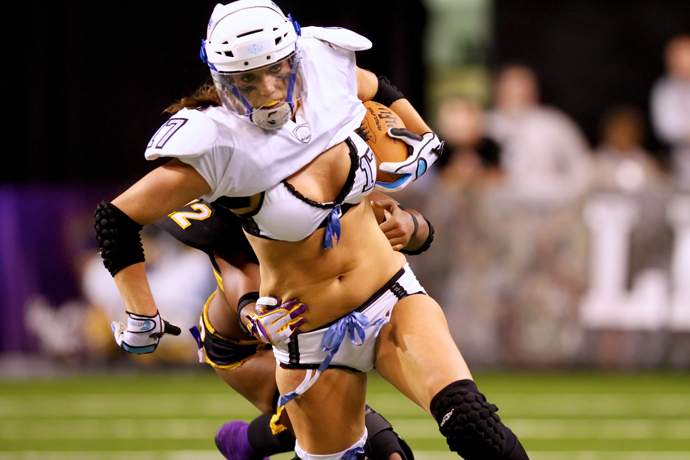 Unique is one word to describe a spectacular event that will happen in Sydney this weekend.

The 2012 Lingerie Football League (LFL) All-Star Game will feature 32 of the most athletic and beautiful women across the league as the Western and Eastern Conference teams clash in front of projected capacity crowds at Allphones Arena.
Expect the game to be as explosive, combative and competitive as all the LFL games are as each player strives to impress for selection into the teams in 2013. Playing a modified version of US NFL Football, Lingerie Football first hit the playing fields and TV screens as an alternative half time entertainment program on Super Bowl Sunday with the Lingerie Bowl attracting millions of viewers worldwide.
And yes, while it was indeed the scantily clad bodies that attracted the initial, mainly male, viewership, it didn't take long to realise that these beauties were also serious sportswomen ready to kick some serious arse! Eventually men and women and families turned up and switched on to cheer on their favourite players.
The mass appeal of the sport was instantly evident and in 2009 the LFL was established premiering to sell-out crowds and millions of primetime TV viewers. The league consists of 12 teams from across the United States who play a 20 week season culminating in the ultimate showdown that is Lingerie Bowl.
This year's broadcast shattered viewing records for MTV Networks with an estimated 43 million fans tuning in worldwide.
The big game will be held tomorrow night – Saturday, June 9 – at Allphones Arena in Homebush.
The Western Weekender has three double passes to give away to the game. For your chance to win, SMS the code word LFL to 19 19 18 and include your name and phone number. SMS cost is 55 cents and entries close at 3pm Friday, June 8. Authorised under NSW Permit Number LTPM/11/00917.