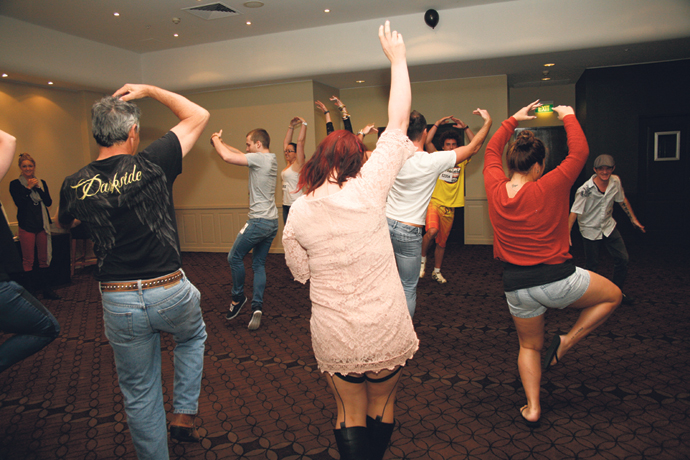 Camping out at Penrith Panthers is a pretty rare site, but several determined souls braved the weather last weekend in a bid to land a spot on the 2012 'Big Brother' series.

About 1,500 people from across NSW fronted Panthers on Sunday morning for the Penrith leg of the 2012 housemate hunt.
Beginning with group auditions in the morning, a few hundred people quickly progressed to the second round, before executive producer, Alex Madroidakis, culled down the numbers in the final round of auditions.
"We've had 20,000 people register nationwide, but I'm looking for about 250 [from all auditions] that I can pick the final number of housemates from," he said.
"I've seen a couple of people here in Penrith that are great. We're looking for real people who want to talk about real issues.
"That's the reason we've come to Penrith… other shows often don't go out of the big five cities, but we want to bring the show to the people."
Anestashe, 29, and her niece, Lahra, 18, were among the diehard hopefuls who camped out the night before auditions.
"I caught a train six hours to pick [Lahra] up and then another five hours to get here," Anestashe said.
"We got here at 4pm on Saturday and basically didn't sleep all night.
"I've auditioned for the past four Big Brothers – if you want a female wrestler who can give you weeks of stir crazy madness, then I'm the girl."
Group auditions involved about 20 people and included a range of tasks – dancing like ballerinas, rolling on the floor and recreating famous landmarks with their bodies – to allow people to show their true colours.
Joey, 35, from Oxley Park was not hard to spot throughout the auditions – he was carrying a large bunch of balloons.
"I'm Muslim and I'm gay, but my family doesn't know about the latter," he said.
"I want to go into the house so I can put my two personalities together and not have to worry. That's what the balloons are for… I want to be free like the balloons."
A wide range of personalities fronted up to the auditions – people who wanted to stand out were dressed in bright green jumpsuits, ugg boots, cowboy hats and even their pyjamas.
But then there were your regular locals who were just keen to get a break.
Emily, 19, from Rooty Hill said she was auditioning for the 2012 series because she was "sick of being average".
"I lost 50 kilograms in about 11 months… I would pretend I was happy with myself when I really wasn't, which is why I am auditioning," she said.
Base guitarist Shani, 19, said she was just after a bit of fun.
"People like to see bad stuff go down – I can do that, I'm all different kinds of fun," the Cranebrook resident said.
And then there were people like Toby, 27, from Wollongong.
"My face is made for Australian television," he said.
While the 'Big Brother' television series was axed in 2008, the Nine Network and Southern Star Entertainment have announced its revival for the highly anticipated 2012 season.
Construction on the 'Big Brother' house started last week at Dreamworld on the Gold Coast and the final number of housemates will be chosen in the coming months.