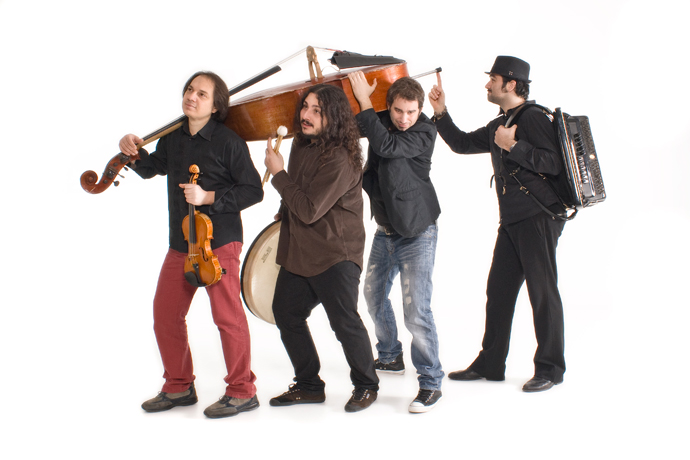 Italian sensations, the Luca Ciarla Gypsy Quartet, are loved by audiences and critics around the world largely thanks to their highly original tunes and arrangements.

Their incredible arrangements happily blend contemporary jazz and ethnic music together, creating an irresistible Mediterranean sound with a touch of gypsy.
One of the world's most sensational and acclaimed violinists, Luca Ciarla, makes his Sydney debut leading a quartet whose instrumentation transcends the boundaries among genres to create an innovative musical path between improvisation, traditional and contemporary music. Is this a specifically Italian jazz sound?
That is part of the fascination with this group where leader and violin virtuoso Ciarla inspires his musicians with a technique always at the service of the music Luca Ciarla's unique style has led him to successfully perform in countless festivals and concert series of jazz, classical and world music festivals in more than 30 countries on every continent.
Ciarla's talents have seen him perform at the National Arts Festival, South Africa to the Java Jazz Festival, Indonesia, from the Esplanade, Singapore to the Italian Institute of Culture, New York, from the Academy for Performing Arts of Hong Kong to the Perth Jazz Society, Western Australia.
Now the Luca Ciarla Gypsy Quartet will perform at some of the most prestigious festivals in Oceania including shows at Melbourne, New Zealand, Sydney and right here at Penrith's Joan Sutherland Performing Arts Centre.
One international critic said the Quartet couldn't be identified under one particular genre but could fit under several: 'The music of the Luca Ciarla Gypsy Quartet cannot be labelled. It is neither jazz nor classical, contemporary nor folk. It contains elements of all these styles and even more, but the most prominent characteristic is imaginative power. It is music with colour and feeling. Music without limits.'
So be sure to open your mind and ears to a musical journey. Get on board Luca Ciarla's gypsy express to discover a wonderful world of thrilling sounds and melodies.
Luca Ciarla Gypsy Quartet will perform next Saturday, May 26 at the Joan Sutherland Performing Arts Centre at 7pm. Tickets are $45 for adults and $42 for concessions. To book or for more information call 4723 7600 or visit www.jspac.com.au.