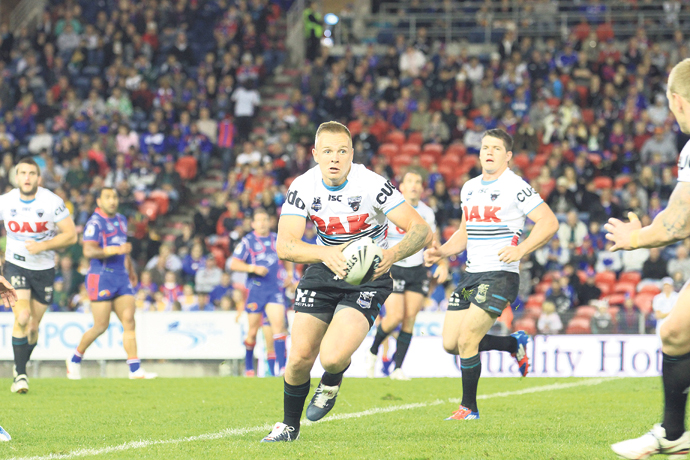 An Ashton Sims try six minutes from full-time secured victory for North Queensland and broke the hearts of a Panthers outfit that scored five tries and had every chance to win the game..

On reflection, the Panthers will realise that the game was theirs for the taking – silly errors and penalties gifted the Cowboys field position and points time and time again.
Most poignant was the eight minutes following the half-time break, in which two errors led to tries to Antonio Winterstein and Gavin Cooper and gave the Cowboys a 22-12 lead.
The Panthers had looked good in the first half, and bagged the first try when Clint Newton chased a Luke Walsh kick to score.
The Cowboys hit back with two quick tries, but Penrith would lead at the break when Blake Austin broke the line and sent Lachlan Coote over under the posts.
With the 12-10 half-time lead evaporating so quickly, Penrith had to fight back the hard way and it was Travis Burns who gave them a glimmer of hope, scoring a great individual try 23 minutes from full-time to narrow the gap.
When Brad Tighe scored with 15 minutes left, Penrith were level and the game was heading for a spectacular conclusion.
Talking of spectacular, Josh Mansour's efforts to score a try in the corner with 11 minutes left to play were just that – and it put Penrith up 28-24.
But with six minutes left, a bomb wasn't collected by either side, and the Cowboys pounced to score the match-winning try.
The Panthers lacked patience at times and and their discipline was again an issue – not only when it came to the penalty count, but both Travis Burns and Luke Walsh were spoken to after delivering blasts at the referees.
The Cowboys' celebrations have been soured by the loss of Tariq Sims to a broken leg, which occured when Burns crossed for his try mid-way through the second half.