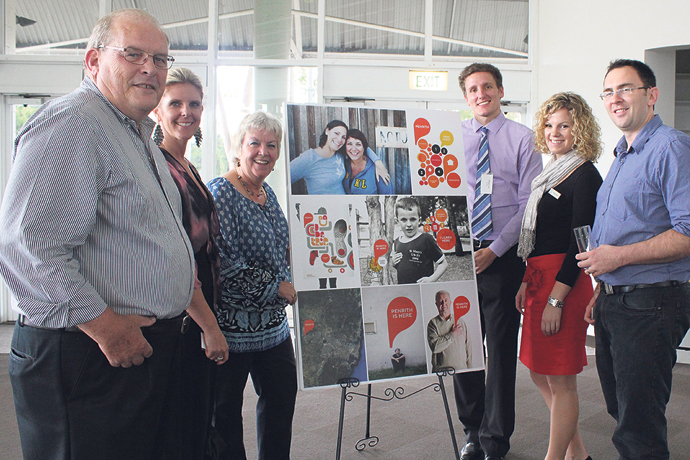 Penrith City Council has re-shaped the image of Penrith by launching a new brand today aimed at enhancing community pride and driving employment and investment in the region.

The major re-brand of the City, centred around the words 'Penrith is Here', has taken some 12 months to come to fruition with key stakeholders involved in workshops over the last year to play a part in forming the image.
The city will be flooded with banners, billboards and other promotional materials this weekend and beyond.
"The new brand is not just a logo, but a living, breathing statement in a vibrant orange hue that will really put Penrith on the map," said Penrith Mayor, Greg Davies (pictured).
"It's a bold P for Penrith, it's proud and aligns with the way we think and feel about ourselves – it's genuinely a brand for all of us."
Praise for the new brand has come from far and wide, with recognition that it represents a significant step forward for Penrith.
Mark Bouris, Executive Chairman of Yellow Brick Road Wealth Management, said it was a great new look.
"It's fantastic to see Penrith's transformation into a hub of opportunity for young families and small businesses," he said.
"The new brand puts Penrith on the map as a destination for families, recreation, sport and business."
One of the key elements of the new brand is that it is not just a new Council logo – it is an image designed for the entire City and it is expected that many businesses, community groups and sporting associations will utilise the brand.
A photographic competition 'Penrith is here, where are you?' will help take the new brand far and wide, with locals encouraged to snap photos with 'Penrith is here' cards and email them to the Council.
"Hundreds of people were involved in developing the brand over the last year and now it's your turn to bring it to life," Cr Davies said.
More details about the competition are at www.penrithishere.com.au.
Brand is a new era, says Mayor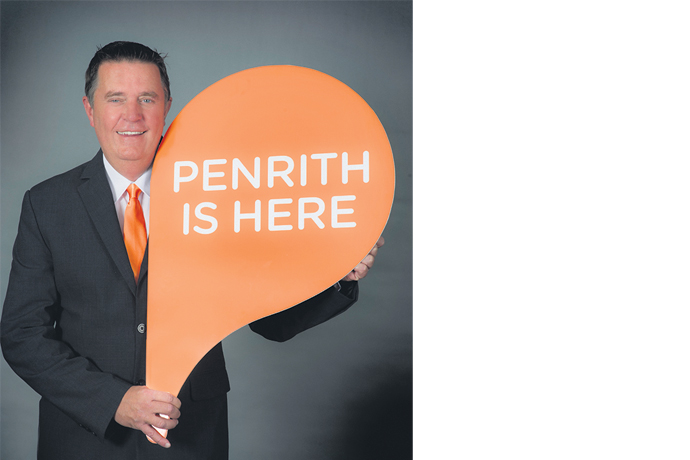 Penrith is undergoing a major facelift that will see the region promoted like never before.
A new brand for the city has been launched today that aims to drive jobs and economic investment, as well as enhance community pride by changing the way people see the area.
Developed over the past year with hundreds of community and business representatives, the new brand puts people at the heart of Penrith's identity.
The new brand is more than an orange 'P' – it aims to capture the city's attributes and confidently declares Penrith as vibrant and proud, while asserting its presence as a regional city.
"It's much more than a logo, it's a change in the way we think and talk about ourselves," said Penrith Mayor, Greg Davies.
"It's a brand system that can be used by stakeholders and the community to leverage our potential and take advantage of our regional city status and growth opportunities."
Cr Davies said residents would start to see the bold new symbol around Penrith in the coming weeks, including a major appearance at Centrebet Stadium tomorrow night for the Panthers v Storm clash.
"The new brand doesn't belong exclusively to Council, it was developed with a cross section of community groups for the benefit of everyone living and working here and will unable us to show the rest of the world who we are and what we stand for," he said.
"It's time to take a fresh look at what we have to offer. We're industrious, thriving and independent. We're proud, connected and confident and know where we're heading.
"More than a place, Penrith is in our hearts. I thank everyone who came to a workshop, completed a survey or shared their thoughts, experiences and feelings to make sure the new brand for Penrith reflects us all."
As part of the launch of the new brand, more than 220 branded street flags have gone up in High Street, Henry Street, Riley Street and Mulgoa Roads, while street banners will go up at other key locations around the city over the weekend.
Billboards, posters and a new website – penrithishere.com.au – will also be launched, while a range of promotional material is also being developed.
The new identity for Penrith moves away from the long-standing tradition of focusing on Penrith's physical attributes and puts people and pride at its heart.
Peter McGhee, the President of the Penrith Valley Chamber of Commerce, praised the new brand for the city.
"The 'Penrith is Here' concept is simple, artistic and flexible," he said.
"The development of the brand is based on extensive community consultation, sound marketing knowledge and perceptions. These fundamentals will ensure the lasting impact of the brand.
"The brand brings a freshness to Penrith and will create many opportunities.
"Penrith City Council is to be congratulated for having the foresight to develop a brand for the city. The consultants, Generation A, are to be congratulated for the quality of their work in developing the brand."
Currently the Managing Director of ASP Group of Companies at St Marys, Paul Brennan leads the Penrith Business Alliance Board of Council with business and community representatives.
"Having recently accompanied a successful delegation of local businesses to Penrith's international partners in China and Korea the Alliance is working to bring international investment to Penrith," Mr Brennan said.
"We see Penrith City as an industrious engine of growth and opportunity, but building economic development is a competitive business.
"The new brand offers us a platform to tell the world that we are here. The brand is not just a logo, it puts into words the way we feel about our City. Our aim is to attract investment to stimulate this confident, productive and well connected community."
Penrith is here.
Where are you?