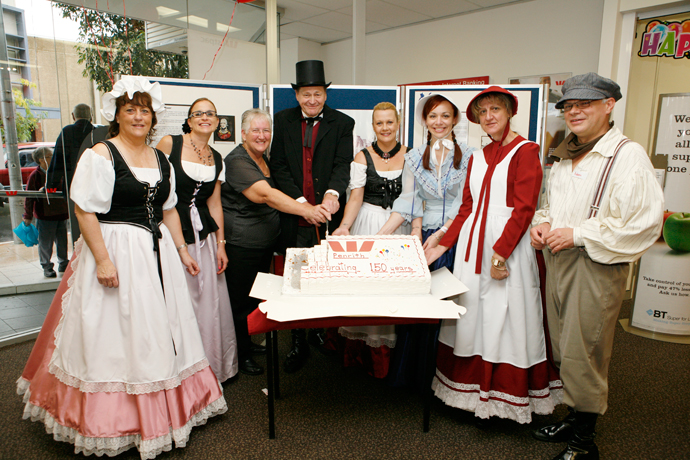 Over 100 local business people, customers and staff turned out to celebrate Westpac Penrith's 150th birthday earlier today.

It was in 1862 when the board of the Bank of New South Wales sent Charles Stewart to Penrith to make preliminary arrangements for the new branch, with Dr George Thomas Clark appointed as the first bankmanager.
"Dr Clarke was one of the first few holders at St Stephens Church, prominent in local affairs, a member of the Penrith road trust and an active supporter to obtain a bridge over the Nepean River," said current Westpac Penrith Branch Manager, Mark Streater.
"The bank operated from Dr Clarke's premises until the bank purchased a property , known as the assembly rooms on the corner of High and Hervey Streets in October the same year.
"Extensive renovations were undertaken and the bank relocated in June 1863. At this time the board had been unhappy with Dr Clarke's performance and William Roberts replaced him. He was an experienced banker having acted as an agent and gold buyer for the bank of New South Wales in Victoria. He served until 1878 when he resigned due to ill health."
Mr Streater, said it was a significant milestone and he wanted to bring the community together to celebrate.
"Westpac as we are known today is proud of its heritage, its presence in the community and the support and experience it provides to its large customer base," Mr Streater said.
Some of the first customers recorded back when the bank first opened were George F Neales, Ernest Simmons, Donald Beaton, Margaret Lynch, William Londale and John Everingham.