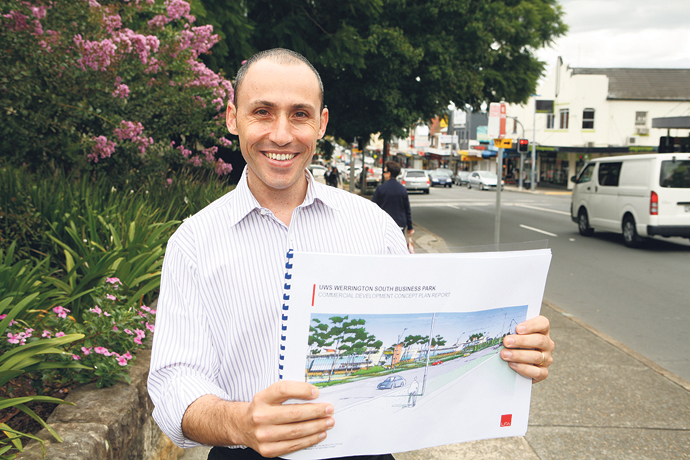 We may not feel the effects of the mining boom here in Penrith but we will feel the growth in education and health, according to Lindsay MP, David Bradbury.

That's why the Assistant Treasurer has thrown his weight behind a multi-million dollar development proposal to tap into the expanding health and education market in western Sydney – the Werrington Park Corporate Centre (Employment Catalyst).
Worth a total of $28 million for the first stage of commercial development on 1.4 hectares of land owned by the University of Western Sydney (UWS), Werrington Park will be a hub for engineering, research, communications and health.
"Whilst the mining boom is presenting opportunities for us as a country in terms of the national income that we are earning, if you think about where the long term job opportunities are going to be, it's going to be in health and education," explained Mr Bradbury.
"The site in question is only a small site but the university has a lot of land that has been designated for employment uses. We want to make sure there are industries and employment opportunities being generated on those sites – but we have got to get it started."
Mr Bradbury is hopeful that Minister for Sustainability, Environment, Water, Population and Communities, Tony Burke, will approve the Suburban Jobs Program funding for Werrington Park because the project will relieve a shortage of higher skilled and higher paid jobs in the local area.
"We continue to be a community where 60 per cent of people leave our local community for work each day," Mr Bradury said.
"If we are talking about delivering opportunities for people to work close to home, to have access to quality of life, to have access to the best available health and education facilities then there can be no better location than the one selected for this project."
Mr Bradbury said co-location with UWS, TAFE NSW Nepean College and Nepean Hospital will also create future development opportunities in the area, including at Werrington North UWS Campus.
The 1.4 hectare site is expected to be a catalyst for the broader proposed 58 hectare Werrington business and innovation campus.
But, it is one of 31 projects competing for national funding under the $45 million Suburban Jobs Program.
"I understand that the particular program was massively over subscribed in terms of the applications that were made, there were many applications made all around the country," Mr Bradbury said.
"[But] the Suburban Jobs Program is about delivering jobs in the outer suburbs… clearly we are a community that fits the bill and this is a project, in my strong opinion, that fits the bill for this particular program."