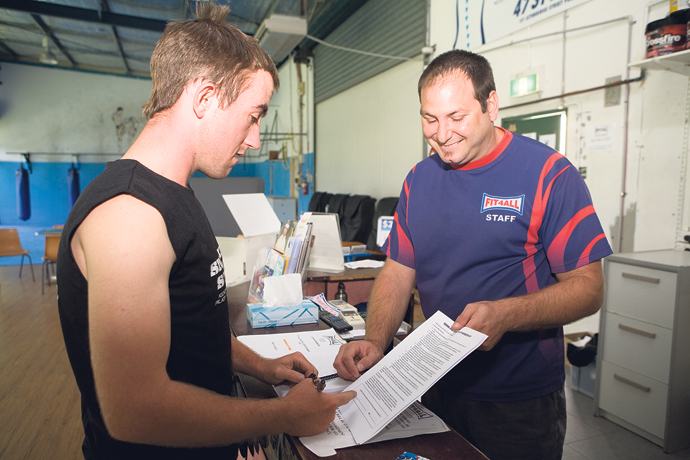 Multinational fitness service providers are not only targeting the weight on our hips but our back pockets, too.

And now local gym owner, Milton Karavas, believes it's time they clean up their act.
"We are the only industry where people pay for not using the service, but I think the fitness industry should be based on a pay-as-you-use basis," said Mr Karavas, who owns and runs Penrith-based, Fit4All.
"Big brand name gyms from the United States are opening up in Australia to take advantage of the fitness boom by locking people into unfair long-term contracts, hitting them with join-up fees and consumers are paying for it."
At Fit4All, there are no join-up fees and lengthy contracts, just a simple pay per month direct debit system.
"Sure, it was difficult in the beginning because people took advantage of our flexibility to try out different fitness regimes, but I have found that we have a far higher long term rate of retention because people know and trust that we are not just taking advantage of them," Mr Karavas said.
He also said many of the large commercial gyms operate on the basis that they will have a large number of clientele that don't regularly use the facilities, and so build smaller gyms that become overcrowded in peak hours.
Between 2000 and 2005, NSW Fair Trading received 1,070 complaints about fitness services concerning contractual issues such as minimum contract terms, termination clauses, termination fees, refunds and direct debit arrangements.
But the number of complaints is steadily increasing. In the year to October 2011, 378 complaints were received about contractual issues.
"There is a reason why there are 25 gyms in Penrith," Mr Karavas said.
"Every major gym chain is trying to attract people and lock them into contracts. NSW Fair Trading needs to step in and review practices in the fitness industry to make it fairer on consumers."
NSW Fair Trading is currently holding a review into the Fitness Services Act 2000, which sets out the rules by which fitness service providers must operate.
What are your experiences with gym contracts? Tell us below.