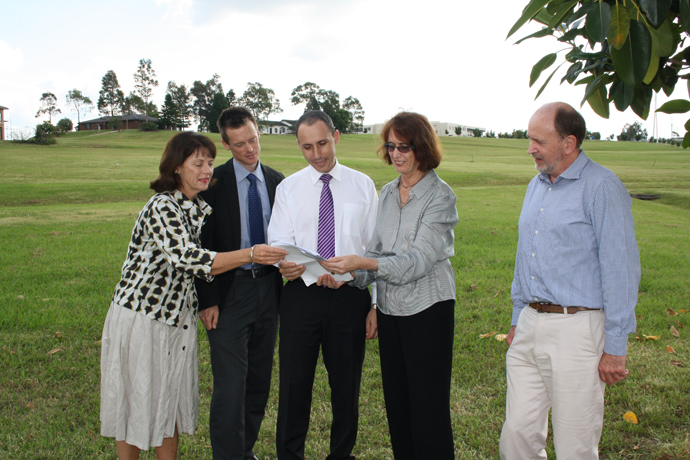 Federal Member for Lindsay, David Bradbury, has met with representatives from the Penrith Business Alliance (PBA), the University of Western Sydney (UWS) and Penrith City Council to discuss the proposed Werrington Park Employment Catalyst.

UWS, the PBA and Penrith City Council have developed a proposal to construct state of the art business and innovation campus.
Mr Bradbury has shown his support for this proposal and believes it would drive employment and innovation in our local community.
"I congratulate UWS, the PBA and Penrith City Council for their great vision in working up this proposal," Mr Bradbury said.
"I have always believed our local community has the capacity to become a centre of innovation, employment and education.
"It is great to see local groups collaborating and developing ideas that will strengthen and expand the capabilities of our region."
The first stage of this project would include the design, infrastructure and capital works for 7,000 square metres of high commercial office space on 1.4 hectares of land owned by the University of Western Sydney. This development would then act as a catalyst for a further 7000 square metres of land being developed by UWS as future commercial demand is created.
"UWS should be congratulated for taking the lead on this exciting opportunity to create the high-tech jobs we need in Penrith," said Paul Brennan, Chairman of the PBA.
"The proposed 'Specialised Industries Incubator' that the building will house, will perfectly complement UWS's research and teaching specialities at its Penrith campuses – and allow for high tech spin off companies from UWS to be created locally.
UWS Vice-Chancellor Professor Janice Reid said the University was delighted to partner with Penrith City Council and the PBA for this submission.
"The collaboration reflects the University's strong ties to the communities of Greater Western Sydney and its commitment to exploring new ways to support jobs growth in the region." Ms Reid said.