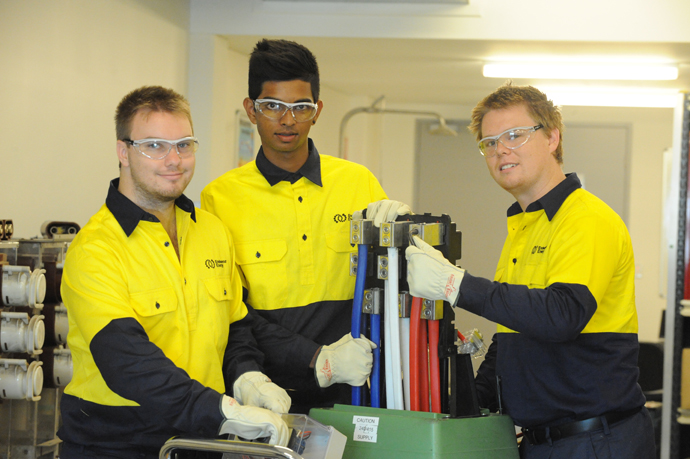 Endeavour Energy has welcomed 45 new apprentices who will help deliver an $11.5 million per week upgrade to western Sydney and the Illawarra.

The 45 new apprentices will join 217 already in training with Endeavour Energy.
Energy Minister, Chris Hartcher, joined Endeavour Energy's CEO, Vince Graham, in welcoming the new apprentices last week.
"This is an important boost to the delivery of a safe and reliable electricity supply to customers across the Endeavour Energy network," Mr Hartcher said.
"These apprentices will be the next generation of power workers helping meet the energy needs of homes and businesses across Greater Western Sydney, the Blue Mountains, the Illawarra and Southern Highlands.
"Nowhere is the need for committed and hardworking people greater than in the provision of electricity supply to the community."
Mr Graham said the apprentices would receive comprehensive training and practical experience over four years, with a particular emphasis on working safely.
"We provide our apprentices with the skills and training to establish long-term trade careers in the electricity supply industry," he said.
Endeavour Energy's 2012 apprentice intake, aged between 16 and 46, include seven mature aged people and two indigenous recruits.
"Training will commence at our purpose built Hoxton Park Technical Training Centre which opened in 2009," Mr Graham said.
"This centre equips our apprentices with the skills to think and work safely while delivering a reliable electricity supply to our customers."
Ben Peterson, 24, is one of the newly accepted apprentices. He worked in retail as a buyer before starting his career in the energy industry as an apprentice electrical worker.
"I wanted to get an electrical trade and work with a good company," he said.
"I was very lucky to get an apprenticeship with Endeavour Energy and I will work hard to work up the ranks and perhaps even study engineering when I finish my apprenticeship."