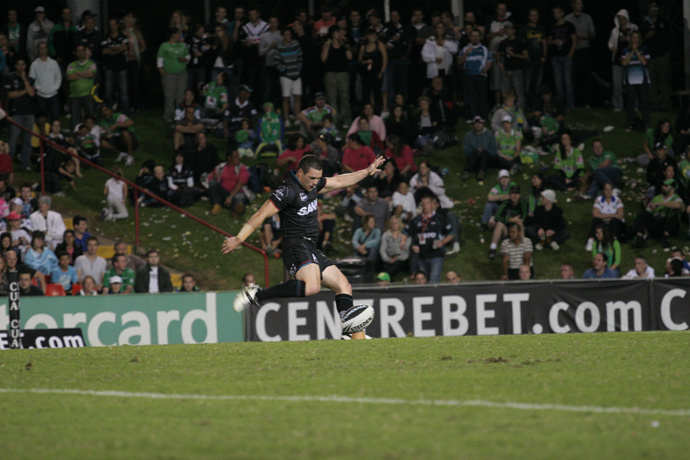 Every NRL contest is defined by moments. Some make you cheer, while others make you groan. Some turn the tide of the contest, while others neatly sum up the day's performance.
And some are simply those indefinable moments that make rugby league so special. Here we look at five moments that defined the Panthers vs. Bulldogs game:
1. 26th minute: Michael Gordon fractures his fibula.
If last season's injury was heartbreaking, this one is a complete and utter tragedy. Penrith's most exciting player, Michael Gordon, suffers a suspected broken fibula after being pulled down in a Greg Eastwood tackle. Penrith are up 12-0 at the time and Gordon has made two breaks in the space of two minutes. His injury not only removes a key strike weapon, but also forces a reshuffle in the backline that will haunt Penrith later in the contest.
2. 30th minute: Steve Turner runs 60m
With the Panthers still in control and attacking the Bulldogs' line, Luke Lewis drifts 30m sideways searching for a way through the defence. A moment of insanity occurs when he finally pops a pass towards the left flank that goes to nobody. Steve Turner picks up the ball and runs 60m for the Bulldogs, leading to a Josh Reynolds try moments later.
3. 46th minute: James Graham catches Penrith unaware
There aren't too many ball-playing front rowers in the NRL, which is probably why Penrith didn't expect Bulldogs' UK recruit James Graham to try anything beyond a straight hit-up. The Englishman attracts three Panthers' defenders, who all choose to ignore Corey Payne and Greg Eastwood looming on his left. Graham throws a deft pass at the line to put Payne through the gap and it's then a matter of draw-and-pass for Payne to send Barba under the sticks.
4. 62nd minute: Clint Newton held up over the line
Leading 14-12 with less than 20 remaining, sustained pressure from the Panthers creates an overlap on the left that sees Travis Burns put Clint Newton on a path to the tryline. With only the diminutive Benny Barba to run over, you'd put your house on Newton scoring, but somehow Barba manages to slow his roll enough for Michael Ennis to sweep across, spin Newton around and prevent him from putting the ball down. Could have been game, set and match right there.
5. 69th minute: Frank Pritchard strikes
After concussing David Simmons with an illegal shoulder charge just two minutes earlier, ex-Panther Frank Pritchard injects himself into the attack in telling fashion. Penrith's defensive structure seems to falter with the loss of both wingers and it's Pritchard who takes advantage of numbers on the left to put Josh Morris across and give the Bulldogs the lead for the first time in the contest.