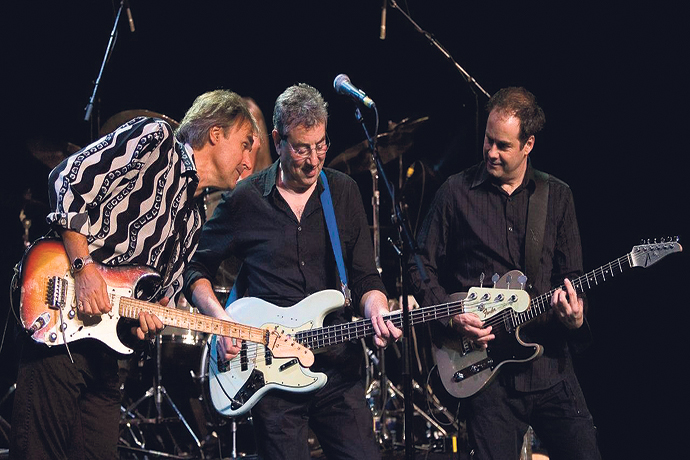 Another one of England's classic rock bands is making the trip to the heart of the west on Friday, March 23.
10cc are considered the missing link between everyone's favourite band The Beatles and modern day alternative chart-toppers, The Gorillaz.
10cc ruled the pop charts in the 1970s and instead of being the centre of attention like other stars of their time, they preferred to focus on the art of turning highly sophisticated rock masterworks into simple-sounding pop hits – and did so very very well.
For most of the band's lifespan, 10cc featured two strong songwriting teams, one 'commercial' and one 'artistic', both camps combined to inject sharp wit into lyrically and musically varied songs.
From their breakthrough number two hit 'Donna' in 1972, to their iconic 1975 worldwide smash 'I'm Not In Love', to their final number one 'Dreadlock Holiday' in 1978, 10cc stood for the kind of heightened pop sensibility achieved only by the very greatest music practitioners.
In truth, they could have topped the charts in any era.
10cc would have been as at home in the dynamic early days of pop in the 1950s, as they would have been in the digital download culture of today.
Founding member and vocalist, Graham Gould, always made the point that it was all about the songs. Not the image or who the singer was or who played which instrument. This philosophy is what stood 10cc apart from all the 'fame hungry' acts around at that time.
The band was also unique in the fact that each of the four members could sing, play an instrument and produce.
One could argue that it could be somewhat damaging to a group having each member good at just about anything, but in fact it allowed more creative sessions to take place and meant their albums were diverse with each track having an individual sound.
The band have achieved immense worldwide success over the years including selling more than 30 million albums, their hit 'I'm Not In Love' has been played more than five million times on US radio and their song 'Dreadlock Holiday' was featured in the 2011 Oscar nominated film 'The Social Network'.
10cc over the years has gone on a number of 'breaks', as well as a number of line-up changes but one thing that hasn't changed is their focus on playing good music and nothing else.
10cc play their greatest hits live at Rooty Hill RSL tonight, Friday, March 23 at 8pm. Tickets are $61.
To book or for more information call 9625 5500 or visit www.rootyhillrsl.com.au.