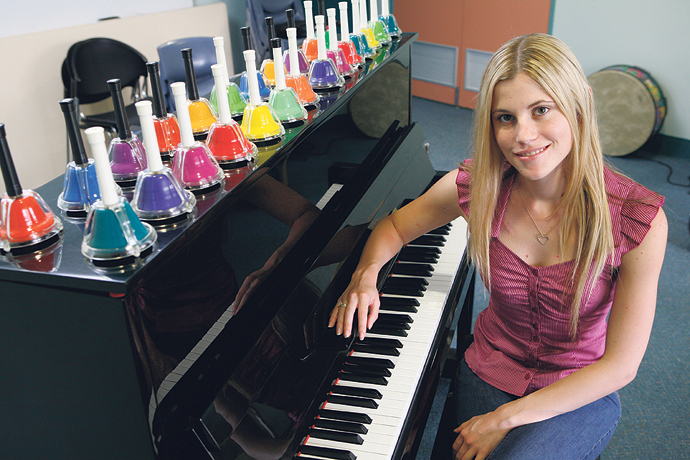 Glenmore Park local, Samantha Ewart, was very surprised when she was nominated for the Young Women of the West Awards but her charitable actions and dedication to her studies shows she is a role model for the community.
Ms Ewart, a PhD candidate with the University of Western Sydney was shortlisted for the award for her work with local charity Nordoff Robbins and her studies that focus on music therapy for people with long term illness.
Ms Ewart is completing her PhD, which focuses on improving the well being of young people in hospital by using Audio Cubes – an interactive digital music installation giving patients a stimulating distraction from their illness.
The study encourages socialisation, creative engagement, and numerous other skills to positively benefit young peoples stay in hospital.
She is currently working on developing more devices that combine music and technology that are suitable for hospital patients with a range of different illnesses.
In 2008, she began volunteering at the Nordoff Robbins Music Therapy Centre and continues to regularly contribute time to administrative tasks, as well as fundraising and assisting with music therapy sessions.
"When I look at the other nominees and past winners – I think how can I even be in the same category," Ms Ewart said humbly.
"But working in the hospital is definitely the best part of my day as I love helping people find new ways to combat their illness – it is the best thing I have ever done," Ms Ewart said.
Iani Sujono, Operations Manager at Nordoff Robbins Music Therapy Australia, said Ms Ewart is a wonderful volunteer.
"Sam shares many wonderful qualities which have assisted the clients greatly. She is attuned to the subtleties needed when working with teenage children and she has the ability to build rapport with them quite quickly and comfortably."
The winners of the Women of the West Awards will be announced tomorrow at a special awards ceremony.