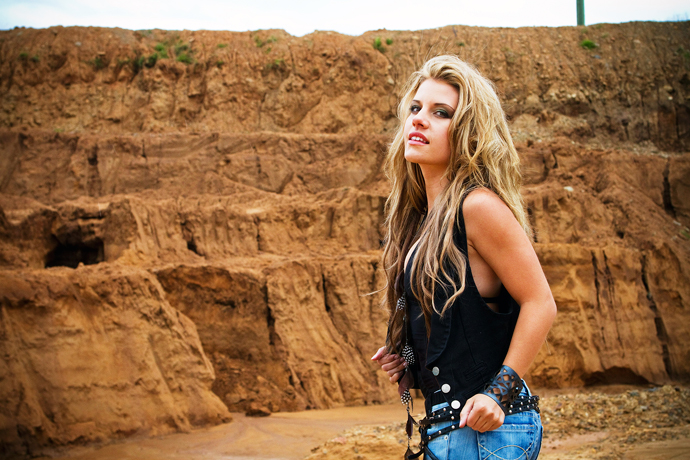 The beautiful and talented Jasmine Rae is the hottest property on the Australian country music scene but it won't be long before she is talked about right around the world too.
The Melbourne-based country lass is bringing her super good looks and superb voice to Rooty Hill RSL later this month to perform tracks from her latest album 'Listen Here', as well as her amazing back catalogue and a few surprises along the way.
Jasmine said she can promise the people of western Sydney a country rockin' good night.
"I'll be doing a whole range of cool things on the night," she said.
"A lot of my songs are very fun, edgy and up-tempo, which will get the crowd pumped. But I also like to pull out my guitar and throw in a few rock n roll and classic country covers along the way.
"I like to cover anything from Bon Jovi to Brooks & Dunn to AC/DC to Merle Haggard. I can't say too much on what we'll be performing on the night but what I can say is that everyone will love it."
The last time Jasmine toured Rooty Hill was back in 2009 and she looks back on that show as one to remember.
"We toured my first album at Rooty Hill RSL a few years back and it was a really awesome show," she said.
"I love the venue out there and can't wait to get back there in two weeks to play some new songs and hopefully fill the house."
Jasmine's stardom in Australia has been on the rise for many years. Her 2011 album 'Listen Here' took the country music charts by storm, debuting at number one and earning her an ARIA nomination for 'Best Country Music' record at last year's ceremony.
Jasmine said getting that number one spot with her second album 'Listen Here' was an amazing moment that she didn't expect.
"You kind of hope you get that kind of success but it's always a surprise when you do get it," she said.
"My first CD back in 2008 did really well but we ended up recording it fairly quickly because I had recently won the Telstra Road to Tamworth competition. So with this second album I really wanted to do it slowly and write a whole lot more of the songs.
"The 'Listen Here' album is a lot more edgier and a little bit more country sounding than my last, so when I found out late last year it was nominated for the ARIA I was crying and was so excited."
Now Jasmine's third album is currently in the works but she admits writing a new hit record feels a bit "bizarre".
"I've only just recently started writing and I'm about to go over to Nashville in April to do a songwriting trip," she said.
"It feels quite bizarre because this last album still feels like my baby, so to be working on a new album you feel like 'Oh no, I can't forget about the other child!'
"There is some pressure to make it better but you also draw inspiration from what was really fun to do live on stage and what people really liked about that album ('Listen Here') and you try and include more of that in the next one."
Jasmine's upcoming trip to Nashville will be the second time she has gone there to write and record.
She said there's no better place in the world for a country musician to go to and learn their craft.
"Everyone in Nashville is so talented. Everyone you meet is there because they're so passionate about music," Jasmine said.
"The people that work and live in Nashville write hits 9am-5pm each day like it's a normal office job, they are amazing.
"I always find when I come back from Nashville I'm injected with inspiration, so I'm really excited to get back over there and do some more writing."
The United States in the future may be more of a second home to Jasmine if she continues to win the praises of fellow big-name country artists like she has been of late.
Over the past few years, Jasmine's been lucky enough to tour with international and local sensations including Alan Jackson, Brooks & Dunn, Joe Nichols, Tim McGraw, Dierks Bentley, Adam Harvey and Lee Kernaghan.
"I've been really privileged over the last couple of years to tour with so many amazing artists," Jasmine said.
"A lot of artists like me apply for these support spots with these touring artists and for them to know who I am and pick me is just really awesome. I don't get all of the shows of course but just to be able to stand on the same stage as them is really something.
"Lee Kernaghan was one of those artists who took me under his wing, provided me with plenty of inspiration and hooked me up with songwriters."
Jasmine's future looks bright and she hopes one day, with perhaps a bit of help from her celebrity friends, that her music will be heard all over the world.
"I want my music to be global. I want it to be heard by lots of people and liked by lots of people," she said.
"Who knows where it's going to lead. It could be really successful in the United States one day but I'm just going to keep on trying to make my music liked by people around the world. At the moment I'm having lots of fun anyway."
Country fan or not, make sure you save the date and join the delightful Jasmine Rae for a fun night out!
Jasmine Rae will play live at the Rooty Hill RSL on Saturday, March 31 at 8pm. Tickets are $11. For more information and to purchase tickets call the RSL on 9625 5500 or visit www.rootyhillrsl.com.au.