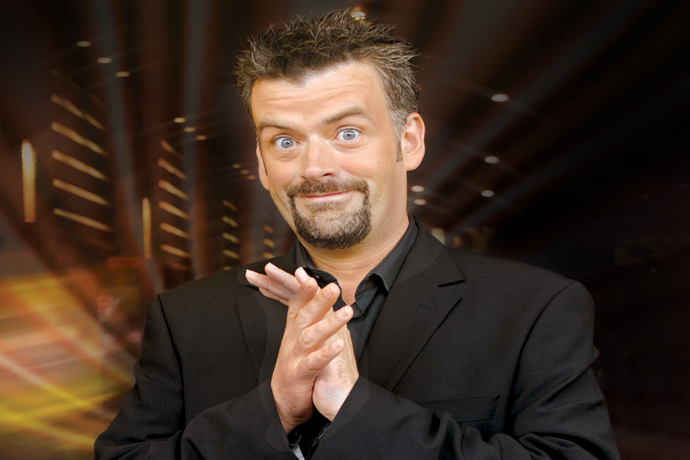 Peter Powers is one of the most successful hypnotists in the world today. He is known for putting people in the strangest of situations, all in the name of hypnotism. This month he's set to put locals under a spell when he tours both the St Marys Band Club and Penrith Panthers World of Entertainment.
Peter's live stage shows are so popular that he draws crowds three times larger than his nearest rivals in each of the countries he performs, making him "the biggest box office hypnotist" around today.
Peter said you can never really plan for a show like his because each night is always as unpredictable as the last.
"You never really know what's going to happen. You can have routines that you plan to do and you will see somebody react differently each time," he said.
"The shows are so spontaneous and I have a lot of fun with that because it's almost like winging it every time you do a show."
Referred to as a "comedy genius", "a hypnotist without equal" and the "best in the business", Peter seems to delight in the antics of his hapless volunteers almost as much as his audiences.
In fits of hysterical laughter, Peter appears to lose himself in each performance, pushing the boundaries of a somewhat wayward humour in his distinctive, mischievous and impish style.
Although the audience experiences a rollercoaster ride on the very edge of what could be considered sane and proper, Peter manages to give onlookers an ample glimpse of potential danger and mind-manipulation-gone-wrong, while impossibly striking the balance of not taking hypnosis too far.
"One funny thing I did recently was I had somebody sit on their feet for 20 minutes with one leg crossed over the other," Peter said.
"During that time I was using other subjects and didn't realise he'd been sitting in that position for so long. I decided to wake everybody up and got them to stand in a line. When the man who'd been sitting down so long came over it was obvious one of his legs had gone dead, as I could see him limping toward the line. I just started laughing straight away.
"I said to him: 'Do you have jelly legs?' He said: 'Yes I do!' I said to him: 'When I click my fingers twice the other leg will be like jelly too.' So I clicked my fingers and his legs went from under him!"
Peter said not everyone can be hypnotised and not everyone can be perfect subjects.
A person's on-stage personality is key to getting an entertaining show.
"The interesting thing about it is it's all about people's personalities," he said.
"You might do a show somewhere and virtually every single person on the stage is quite dull even after I've gone over a few routines with them. The best people are the ones with big quirky personalities. Even people who have bad tempers or are quite impatient are good subjects."
While Peter loves using his hypnotist skills for comedy and entertainment, he also on the rare occasion uses hypnosis to help people with medical conditions.
Peter admits he doesn't own his own therapy centre or practice and doesn't take bookings for medical related work but does still receive plenty of emails asking him for such help.
"Sometimes I hear a story that's so heartbreaking and I'm so touched by it that I just have to help somebody," he said.
"In October last year I treated a girl who was 26 and when she was 13 broke her back at school after a human pyramid she was in the middle of collapsed. She's had 34 operations since then and is in constant pain even after taking 27 painkillers a day including morphine.
"This girl was so lovely and her spirit wasn't broken. When she came to see me she was in a sprung bed that they used to push her around [in]. I told her that if I hypnotised her I can give her some pain-free moments, but obviously she can't remain hypnotised 24 hours a day. I said: 'You're not going to be pain-free but I can reduce your pain'."
Peter ended up giving the girl her first pain-free moments since the accident.
The girl's mother didn't believe it and wouldn't even look him in the eye.
"I told the girl to spend some time alone with her mum. She then admitted to her mother that she was completely pain-free and there were tears all-around," Peter continued.
"What I did was change the texture of the pain and when I left gave her advice on how to hypnotise herself.
"She used to get three hours sleep a night, now she gets seven and is going for walks and even playing table tennis! That whole experience was very, very rewarding."
Peter Powers performs his famous act live at St Marys Band Club this Saturday, March 10 at 8pm. Tickets are $35.
To book or for more information call 9623 1211 or visit www.stmarysbandclub.com.au.
Later this month, Peter will also be performing at the EVAN Theatre, Penrith Panthers on Saturday, March 31 at 8pm. Tickets are $37.90.
To book or for more information call 1800 061 991 or visit www.penrith.panthers.com.au.
Why not book a ticket to either show and experience Peter's power!