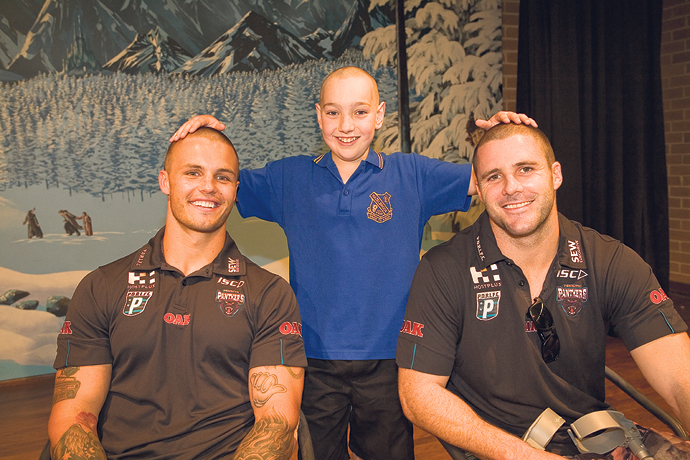 Two of the Penrith Panthers' most popular stars got a huge buzz on Tuesday when they took part in the annual 'World's Greatest Shave', raising money for the Leukaemia Foundation.
Penrith wingers Michael Gordon and Sandor Earl joined 10-year-old student Declan Filtness at Hazelbrook Public School, where they got their nicely gelled heads of hair snipped clean off.
Injured Panther, Michael Gordon, said he jumped at the chance to share the stage with teammate, Sandor Earl, to help out an important cause.
"I heard he (Earl) was doing it and I know how attached he is to his looks and his hair, so I thought I can't let him do it by himself and I'm not fussed about my hair, so I'm happy to donate it," he said.
The event was put on to raise money for seriously ill children including two-year-old Scarlett Lay from western Sydney, who is most likely the only person in Australia currently fighting clear cell sarcoma of the kidney – an extremely rare and aggressive form of cancer.
Gordon explained his own personal connection to the cause with a former teammate from his junior days battling the dreaded disease.
"One of my mates from my footy team growing up had cancer when he was young," Gordon said.
"It was very hard to deal with at the time, seeing your mate lose all his hair, but he pulled through in the end."
Fellow Panther and part-time model, Sandor Earl, said he was feeling the nerves when he heard the buzz of the clippers behind his ear.
"I was definitely nervous up there on stage because I haven't shaved my head since I was a kid, so it's been a while, that's why I'm feeling a bit naked," he laughed.
"I was actually planning to shave my head for a bit of a change and it was just a coincidence that it linked in with the 'World's Greatest Shave' and then before you know it we are up here doing it for a good cause."
Last week, Earl was selected as one of Cleo magazine's Top 50 'Bachelors of the Year' and hopes shaving his head doesn't hurt his chances of taking out the title.
"At least it shows a different side to me," he joked. "There's a photo up on the internet of me with hair and now there's one with not, so we're running with two angles, let's see how that goes."
On a rugby league front, Earl said he hopes to push his way back into the first grade squad over the next few rounds, while winger Michael Gordon's recovery from a broken ankle is coming along well.
He still has another month before he's off the crutches and heads straight to rehab to hopefully re-join the side this season.