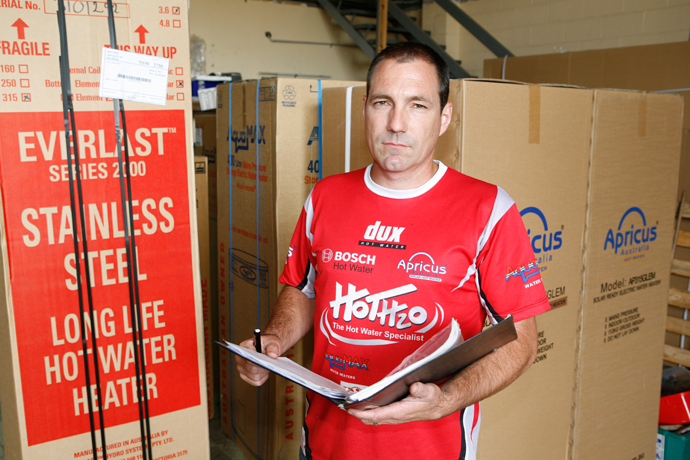 A snap decision by the Federal Government to close its Solar Hot Water Rebate to households four months early has forced Penrith solar hot water retailers to lay off staff and cope with burgeoning, immovable stock.
The announcement was made on February 28 that no purchases after that day would be eligible for the Federal Government rebate worth thousands of dollars.
"The most significant long-term support for the solar hot water industry will come from a carbon price," said Parliamentary Secretary for Climate Change and Energy Efficiency, Mark Dreyfus.
Shane Hinchliffe from Penrith-based HotH20 said that whilst his company had provided solar hot water systems prior to the rebate scheme being introduced in 2007, he had grown the business substantially to accommodate increasing demand – demand that has stoped over night leaving the business with few choices.
"We were preparing for demand to slow down when the rebate scheme was due to end on June 30, but to have it stopped four months early has thrown a massive spanner in the works," Mr Hinchliffe said.
"We haven't had one inquiry about solar hot water since the announcement was made – everyone is turning back to electric heaters. We have installations that were booked months ago but in the next two weeks they will dry up and we will have left over stock.
"We used to have a couple of sales a day but now the business will have to be restructured and some staff will be laid off."
Penrith Hot Water boss, Dal Singh, said his warehouse is full of stock that the manufacturers still want their money for.
"We have stock in our warehouse that manufacturers want their money for but there is just no longer the demand," Mr Singh said.
"They have axed assistance to households who have gone to that extra effort and we have now been flung by the wayside," he said.
Opposition Leader, Tony Abbott, has slammed the government's abrupt decision.
"These actions have put workers out of jobs and businesses at risk of financial ruin," Mr Abbott said.
"The Coalition will introduce a Private Member's Bill into Parliament in the next sitting fortnight that will require the Gillard Government to commit to the remaining funding allocated for the Scheme, [which totalled] $64.5 million in 2011-12."
"The solar and heat pump industry can also seek assistance under the Clean Technology Innovation Program to support further innovation and product improvement," Mr Dreyfus said in reply.