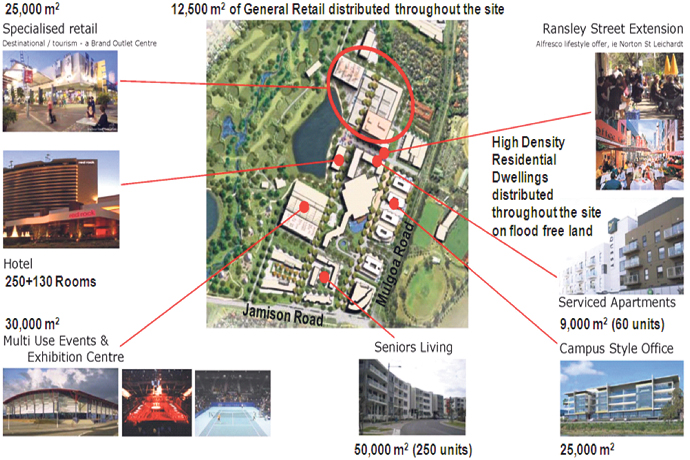 It was an historic day on Monday, according to Penrith Councillor Robert Ardill, and not just because it was the Sydney Harbour Bridge's 80th birthday.
The $850 million Panthers Group development proposal was brought to Penrith City Council's policy review meeting, which seeks to rezone a large chunk of land for retail, commercial and residential uses.
While the retail side of the proposal was met with some criticism, mainly from existing shop owners, Cr Ardill said it was about planning for the future, just like when the Harbour Bridge was built with 12 lanes in 1932 – it wasn't necessary back then, but it was visionary.
"The Harbour Bridge is recognised around the world as an icon of Sydney… Panthers have a similar icon status with Penrith. This type of development will bring people to Penrith," he said.
The proposed development would be constructed on the Panthers site, falling within the strategic planning area known as the Riverlink Precinct Plan, which was adopted by Council in 2008.
It is set to include restaurants, conference and entertainment facilities, an aged care facility and retail opportunities including a brand outlet centre.
The demise of retail in the existing Penrith CBD was the main concern against the proposal, with representatives from Westfield, Centro and the Penrith City Centre Association ready to voice objections.
The current proposal caters for a 25,500 metre squared outlet centre and 12,500 squared metres for general retail.
"We've already got a significant vacancy issue in High Street. I'm at a loss to understand why we would reinforce or increase that vacancy rate," said Simon Rumbold, consultant to Westfield Limited.
"The issue we're facing is that by taking this much business out the CBD and transferring it 1.5km down the road, we are taking out the opportunity for regeneration to occur."
However, Cr John Thain said when Penrith Westfield was extended a few years back, a number of things were promised to help regenerate business in the CBD.
"When the extensions to the Plaza were going ahead we got the same thing from the city centres saying that it was going to kill shops as well," he said.
"And I remember the promises from the Plaza about the community space, the new cinemas, David Jones – all the other things that would come with it that never did."
A number of points were also raised in relation to the Parkview development, which proposes residential, commercial and retail space for the old Panasonic site on Station Street.
"We view Council's support for the proposed retail site as a failure to recognise the future retail plan for the Parkview site," said Bilinda Errington, representative for Centro Properties.
But Mayor Greg Davies said it was difficult to factor the Parkview site in, considering nothing has developed further with the site since it was lodged with Planning NSW
The planning proposal will most likely be decided on at Council's ordinary meeting on Monday.